Watch La La Land
"Here's to the fools who dream."
In this musical romance, Ryan Gosling and Emma Stone star as aspiring artists who have to balance their love for one another with their dedication to their careers. She is an actress, and he is a jazz pianist, and both of them are determined to make it in the brutal world of LA show business.
|
2016
|
|

/

10
Cast

Studio

Director

Damien Chazelle

Language

English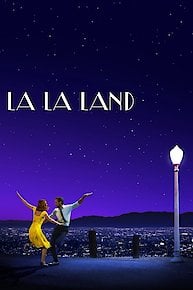 More Like La La Land
La La Land News
Emma Stone Responds to Teen's Prom Invite
The Arizona teen had created an elaborate video promposal for the actress.
High Schooler Asks Emma Stone to Prom with 'La La Land' Scene
It was worth a shot, but will she say yes?
Prom Kid Gets Response from Emma Stone
Did she agree to go to the dance with him?
Will 'La La Land' Dominate the Oscars?
The movie has been unstoppable at just about every other awards ceremony this year. Will the Oscars be any different?
'La La Land' Rakes in Oscar Nominations, 'Deadpool' Doesn't
The musical film ruled the Golden Globes, and now it has the chance to do the same with the Academy Awards.
Golden Globes Love 'La La Land,' Provoke Trump Tweets
If your movie was nominated for a Golden Globe next to La La Land, you were in for a disappointing night on Sunday. And if you're Donald Trump, the awards show gave you plenty to tweet about.