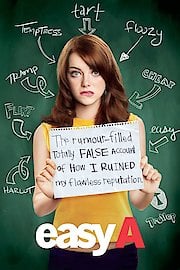 Watch Easy A
"A comedy about a good girl a small favor and a big rumor"
PG-13
2010
1 hr 32 min
72
Easy A is a coming-of-age comedy film from 2010 that follows the story of high school student Olive Penderghast (played by Emma Stone). The movie starts with Olive telling the audience that she is going to set the record straight about a rumor that has been going around her school. The rumor is that she lost her virginity over the weekend to a college guy, even though she has never even had a boyfriend before.
Olive's best friend, Rhiannon (played by Alyson Michalka), is intrigued by the rumor and wants to know all the juicy details. However, Olive doesn't want to reveal the truth because nothing exciting actually happened that weekend. To save face, she lies and says that she did sleep with the college guy. The lie spreads like wildfire and suddenly Olive is seen as the school's resident "easy girl."
Instead of trying to correct the rumor, Olive embraces it as a way to gain attention and increase her standing among her peers. She starts wearing more provocative clothing and even starts dating a guy from her school (played by Penn Badgley) who is also struggling with his own identity issues. All the while, she maintains her good grades and continues her extracurricular activities, making her "promiscuous" reputation all the more bewildering to the people around her.
One of the most interesting parts of the movie is the way it deals with the themes of sexuality and reputation. Olive's initial lie may have been harmless, but it quickly spirals out of control and causes her to be viewed as someone she isn't. The movie reveals how our identities and reputations are shaped by the perceptions of others, and how damaging those perceptions can be when they are not aligned with our true selves.
Throughout the movie, Olive encounters a variety of colorful characters who have their own takes on the rumor about her. One of the most memorable is Marianne (played by Amanda Bynes), a devoutly religious girl who leads an abstinence group at school. Marianne is determined to promote "purity" and sees Olive as a threat to her mission. She goes on a crusade to expose Olive as a liar and a "whore," leading to a hilarious confrontation between the two at a school assembly.
As Olive tries to navigate the fallout of her lie, she begins to learn more about herself and the people around her. She realizes that even the most seemingly perfect people have their own secrets and insecurities. She also learns that one bad decision doesn't define who she is, and that it's more important to be true to herself than to conform to the expectations of others.
The acting in Easy A is superb, with Emma Stone delivering a standout performance as Olive. Her quick wit and sarcastic humor are perfect for the character, and she plays the role with a sense of vulnerability that makes Olive feel relatable and likable. Her chemistry with Penn Badgley is also excellent, with the two actors sharing a natural and believable relationship on screen.
Amanda Bynes is also a standout in the movie, delivering a hilariously over-the-top performance as the religious zealot Marianne. She perfectly captures the character's righteous indignation and self-righteousness, making her the perfect foil for Olive's more laid-back attitude.
Overall, Easy A is a smart, witty, and entertaining movie that explores themes of identity, reputation, and self-discovery. It's a movie that will make you laugh, but also make you think, and it's definitely worth a watch.
Easy A is a 2010 comedy with a runtime of 1 hour and 32 minutes. It has received mostly positive reviews from critics and viewers, who have given it an IMDb score of 7.0 and a MetaScore of 72.