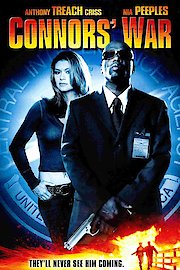 Watch Connor's War
"They'll never see him coming."
R
2006
1 hr 30 min
Connor's War is a gripping action movie released in 2006 that follows the story of a former member of the United States Special Forces, Connor (played by Anthony 'Treach' Criss), who is struggling to come to terms with the brutal murder of his wife and daughter. Despite his attempts to lead a normal life, his past catches up with him when a group of Russian gangsters kidnap his sister and demand that he steal a top-secret chemical weapon from the US government.
With no other options, Connor agrees to the gangsters' demands and sets out on a dangerous mission to steal the weapon with the help of his old friend and fellow soldier Barnes (played by Tom Heaton). However, things take an unexpected turn when Connor discovers that the gangsters are not who they seem, and that the weapon they are after could have devastating consequences for the world if it falls into the wrong hands.
As the clock ticks down and the stakes get higher, Connor must use all of his skills as a soldier, as well as his love for his family, to stop the gangsters and prevent a global catastrophe. With the help of Barnes, his sister, and a beautiful government agent named Charlene (played by Nia Peeples), Connor engages in high-stakes chases, shootouts, and hand-to-hand combat to save the day and restore his own sense of purpose in life.
The film is directed by David DeCoteau and features a talented cast of actors, including Blu Mankuma as the tough-talking FBI agent tasked with stopping the gangsters and recovering the stolen weapon. The film's action sequences are intense and exciting, with plenty of adrenaline-fueled moments that keep viewers on the edge of their seats.
What sets Connor's War apart from other action movies is its emphasis on character development and emotion. While there is no shortage of explosions and shootouts, the film also takes the time to explore Connor's inner turmoil and the psychological effects of his traumatic experiences. This gives the story a deeper layer of meaning and makes it more than just a mindless action flick.
Overall, Connor's War is a thrilling and heart-pumping action movie that delivers plenty of excitement, suspense, and emotion. With its engaging storyline, well-crafted action sequences, and talented cast, it's a must-see for fans of the genre and anyone looking for an entertaining and thought-provoking action movie.
Connor's War is a 2006 action movie with a runtime of 1 hour and 30 minutes. It has received mostly poor reviews from critics and viewers, who have given it an IMDb score of 4.6.