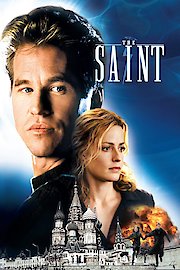 Watch The Saint
"Never reveal your name. Never turn your back. Never surrender your heart."
PG-13
1997
1 hr 56 min
50
The Saint is a 1997 action-adventure film that follow the story of Simon Templar, the titular Saint, played by Val Kilmer. Templar is an expert in disguise, forgery, and theft, whose actions are motivated by his personal code of conduct. He is a modern-day Robin Hood, stealing from the rich and powerful and using the stolen goods to fund his lavish lifestyle.
The plot of the movie revolves around Simon Templar's latest mission, which is to acquire a revolutionary cold fusion formula developed by the Russian scientist Emma Russell, played by Elisabeth Shue. Russell is being pressured by a Russian businessman and criminal mastermind, Ivan Tretiak, played by Rade Serbedzija, to provide the formula to him for his own purposes. Simon Templar, who has always been successful in his missions, is attracted to and falls in love with Russell. Simon Templar must use all his expertise and deception to get the formula, save the scientist and overcome Tretiak's devious plans.
The Saint is directed by Phillip Noyce, who directed some of the most iconic movies in the action genre. The director showed his mastery of the craft through several action sequences, including car chases, shootouts, and explosive set pieces. The movie is fast-paced, with Simon Templar always on the move, facing dangerous situations.
Val Kilmer is charismatic and charming as Simon Templar. He brings his expertise and humor to the character, making him stand out as a suave and witty hero. Templar is not invincible, and Kilmer's portrayal humanizes him, making us root for him even more. Kilmer's onscreen presence and chemistry with Elisabeth Shue are remarkable, never falling into cliché territory, and always staying fresh and engaging.
Elisabeth Shue shines as Emma Russell, bringing a sense of vulnerability and intelligence to the character. Russell may be a genius, but she is also a woman who is conflicted between her scientific curiosity and her love for Simon Templar. Shue's performance balances these aspects with aplomb and never falls into caricature.
Rade Serbedzija delivers a menacing performance as Ivan Tretiak, the movie's main villain. Serbedzija portrays Tretiak as a man who is used to getting what he wants, even if it means putting other people's lives in danger. The Serbian actor is perfect for the role, instilling the right dose of gravitas and danger.
The movie's technical aspects are astounding, with beautiful cinematography by Phil Meheux and a thrilling score by Graeme Revell. The settings range from Russia to the United States, and the locations are well-utilized in the film's favor. The action sequences and visual effects are top-notch, and the filmmakers did a great job in keeping the movie grounded in reality.
Overall, The Saint is a thrilling and engaging movie that stands the test of time. The film's charismatic performances, fast-paced action, and well-crafted story make it one of the most entertaining movies of its era. Fans of action-adventure movies will surely enjoy watching Val Kilmer as Simon Templar, delivering one of his most memorable roles.
The Saint is a 1997 thriller with a runtime of 1 hour and 56 minutes. It has received mostly poor reviews from critics and viewers, who have given it an IMDb score of 6.2 and a MetaScore of 50.