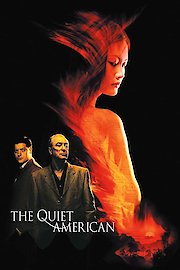 Watch The Quiet American
"In war, the most powerful weapon is seduction."
R
2002
1 hr 41 min
84
The Quiet American is a 2002 film adaptation of Graham Greene's 1955 novel of the same name, directed by Phillip Noyce. The movie stars Michael Caine, Brendan Fraser, and Thi Hai Yen Do. It is a drama war film set in 1952 Saigon during the First Indochina War. The movie depicts the conflicts of the French colonialists in Vietnam as they try to maintain control over their colony. The main character of the movie is a British journalist named Thomas Fowler, played by Michael Caine. He is a seasoned journalist who has been living and working in Saigon for years. His routine is disrupted by the arrival of a young American named Alden Pyle, played by Brendan Fraser. Pyle is working for the Economic Aid Mission and is keen to help the Vietnamese people. Thomas and Pyle have vastly different views on the war. Thomas sees it as a hopeless conflict that cannot be won, while Pyle believes that the United States can make a difference. Thomas also has a complicated relationship with his Vietnamese mistress, Phuong, portrayed by Thi Hai Yen Do. Phuong is torn between her loyalty to Thomas and her attraction to Pyle, who promises her a better life in America. As the story unfolds, it becomes clear that Pyle is not purely an aid worker. He has a hidden agenda, and his involvement in the conflict puts Thomas and Phuong in danger. Thomas tries to uncover Pyle's true motives, but his investigations lead to tragic consequences. The Quiet American is a compelling story of love, war, and betrayal. It is a nuanced portrayal of the complex political situation in Vietnam during the early years of the Cold War. The movie is visually stunning, with breathtaking shots of Saigon and the Vietnamese countryside. The performances from the main actors are excellent, with Michael Caine in particular giving a standout performance as the world-weary journalist. The movie's themes of imperialism, colonialism, and the futility of war are as relevant today as they were when Graham Greene wrote the novel over 60 years ago. The Quiet American is a thought-provoking movie that raises important questions about the role of the West in the developing world. In conclusion, The Quiet American is a well-crafted and thought-provoking movie that deserves to be seen by anyone interested in the history of Vietnam or the politics of the Cold War. The movie is a powerful reminder of the tragedy of war and the human cost of imperialism. The performances from the cast are outstanding, and the cinematography is breathtaking. It is a movie that will stay with you long after the credits roll.