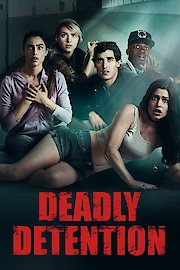 Watch Deadly Detention
"Five students were taught a lesson they would never forget"
NR
2017
1 hr 26 min
Stuck together for Saturday detention, five high school students with nothing in common find themselves being forced to do tedious work. The dull day turns dire when they hear Principal Presley screaming for her life, then see her lifeless body hanging from the ceiling of a meat locker. Now at the mercy of a sadistic madman who claims they're all going to die, the students must put aside their differences and find a way to outsmart their assailant before they're all murdered one by one.