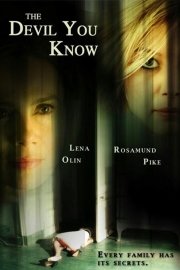 Watch Devil You Know
NR
2013
1 hr 16 min
Devil You Know is a gripping psychological thriller that was released in 2013. The film boasts an impressive cast, which includes acclaimed actors such as Rosamund Pike, Lena Olin, and Dean Winters. The movie was directed by James Oakley, who did an excellent job of bringing the complex story to life. The film follows the story of Zoe Hughes, played by Rosamund Pike, who is a young woman with a troubled past. Zoe has spent much of her life trying to escape her demons, but they always seem to catch up with her. However, things take a turn for the worse when Zoe receives a mysterious package that unleashes a chain of events that threatens to destroy her life.
The package that Zoe receives contains a manuscript from her estranged mother, Sophia, played by Lena Olin. The manuscript tells a dark and disturbing story of a woman who became obsessed with a particular writer, and the lengths she went to in order to have him all to herself. As Zoe reads the manuscript, she realizes that her own mother may be the very person the story is about.
As she delves deeper into the mystery surrounding her mother, Zoe begins to uncover a web of lies and secrets that threatens to unravel her own life. She enlists the help of a private investigator, played by Dean Winters, to get to the bottom of the mystery. However, the closer they get to the truth, the more dangerous their situation becomes.
What follows is a tense and suspenseful cat-and-mouse game as Zoe and the private investigator race against time to unravel the truth about her mother's past. As they get closer to the truth, Zoe realizes that her own safety is at risk, and she must use all her wits and strength to survive.
The film is masterfully crafted, with excellent attention to detail. The performances of the cast are top-notch, with Rosamund Pike delivering a standout performance as Zoe. Her portrayal of the character's journey from being a victim to being a fighter is both riveting and inspiring.
The movie's cinematography is also worth mentioning, as it adds to the overall atmosphere and mood of the film. The film's use of light and shadow cleverly creates tension and suspense in key moments, making for an emotionally impactful viewing experience.
In conclusion, Devil You Know is a must-watch film for anyone who enjoys a good psychological thriller. It is gripping, suspenseful, and expertly crafted, with a strong cast of talented actors. The film's intricate storytelling, attention to detail, and excellent cinematography make it a standout feature that will keep audiences on the edge of their seats until the very end.
Devil You Know is a 2013 mystery with a runtime of 1 hour and 16 minutes. It has received mostly poor reviews from critics and viewers, who have given it an IMDb score of 3.3.