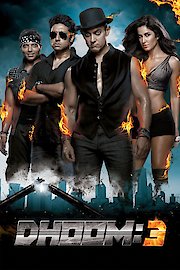 Watch Dhoom 3
Dhoom 3 is a 2013 Indian action thriller film directed by Vijay Krishna Acharya and produced by Aditya Chopra. The third installment in the popular Dhoom series, the film stars Aamir Khan as the main antagonist, Jack, who is on a mission to avenge his father's death. Katrina Kaif and Abhishek Bachchan also star in prominent roles. The film begins with Sahir (Aamir Khan) and Samar (Siddharth Nigam), two brothers who live in Chicago and run a small circus. Sahir is a master magician and uses his skills to steal money from wealthy businessmen who have wronged his family. The film then introduces Jai Dixit (Abhishek Bachchan), a cop from Mumbai who has been assigned to catch Sahir after he robs a bank in Chicago.
Sahir's next target is The Western Bank of Chicago, which he plans to rob on New Year's Eve. Jai and his partner, Ali (Uday Chopra), start investigating the case and soon realize that Sahir is not just an ordinary thief but a genius who has been planning his heists for years. As they get closer to catching Sahir, they discover that there is a larger conspiracy at play, and Sahir is just a small part of it.
Meanwhile, Sahir meets Aaliya (Katrina Kaif), a circus performer who becomes his love interest. However, Sahir's primary focus is still on getting revenge for his father's death, and he will stop at nothing to achieve his goal. As the New Year's Eve heist approaches, Jai, Ali, and Sahir race against time to see who will come out on top.
The film is known for its high-speed bike chases, stunning locations, and clever twists and turns. The action sequences are well choreographed, and Aamir Khan's performance as the villain is outstanding. Katrina Kaif also shines in her role and provides the necessary emotional depth to the film.
The film's music, composed by Pritam, is a mix of fast-paced and emotional tracks. The title track, "Dhoom Machale," is a popular dance number that has become synonymous with the Dhoom franchise. Other notable songs include "Kamli" and "Malang."
Dhoom 3 was released to mixed reviews but was a commercial success, becoming the highest-grossing Bollywood film of all time at the time of its release. The film's success led to talks of a fourth installment in the series, although no official announcement has been made yet.
Overall, Dhoom 3 is a thrilling action film that will keep you on the edge of your seat. It's a must-watch for fans of the Dhoom franchise and anyone who enjoys a good action thriller.
Dhoom 3 is a 2013 action movie. It has received moderate reviews from critics and viewers, who have given it an IMDb score of 5.4 and a MetaScore of 61.