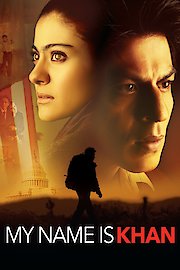 Watch My Name Is Khan
"An Ordinary Man, An Extraordinary Journey ... FOR LOVE."
PG-13
2010
2 hr 41 min
50
My Name Is Khan is a blockbuster Hindi movie that released in 2010. Directed by Karan Johar and produced by Hiroo Yash Johar and Gauri Khan, the film stars Shah Rukh Khan, Kajol, Sheetal Menon, Jimmy Shergill, Zarina Wahab, and many others. The movie takes place in post 9/11 America, and focuses on Rizwan Khan (played by Shah Rukh Khan), a Muslim man with Asperger's Syndrome, who lives with his mother in Mumbai. He moves to the United States to live with his brother, and starts working as a salesman, but soon meets and falls in love with Mandira (played by Kajol), a Hindu single mother. The two of them start a new life together, but after the 9/11 attacks, the climate in the US changes drastically, and their relationship is tested. Following a tragic event, Rizwan sets out on a journey across the US to meet the President of the United States, and clear his name. The cinematography is breathtakingly beautiful, with sweeping shots of the landscape, and vivid scenes depicting the different cultures and people that Rizwan encounters along his journey. The soundtrack is a brilliant combination of Indian classical, Western pop, and devotional music, and complements the scenes perfectly. The film's message of love and acceptance is delivered through the power of Shah Rukh Khan's portrayal of Rizwan, his innocence, and his unique way of looking at the world. Shah Rukh Khan's performance as Rizwan Khan is one of his most memorable in his illustrious career. To portray a character with Asperger's Syndrome requires a great deal of sensitivity and understanding, and Khan does it with aplomb. His portrayal is nuanced and believable, and he brings the character to life with his unique charm and mannerisms. Kajol is equally impressive as Mandira, a woman struggling to maintain her identity and deal with the discrimination that she and her son face post-9/11. Their chemistry on screen is palpable, and their combined acting prowess makes for some unforgettable scenes. The film also tackles important topics like social justice, discrimination, and mental health, in a subtle and sensitive manner. At its core, it is a love story of two people from different backgrounds, struggling to cope with the external pressures of society. It is also a commentary on the post-9/11 world, and the rise of Islamophobia that followed. My Name Is Khan received critical acclaim from both Indian and international audiences, and won several awards, including Best Actor (Shah Rukh Khan), Best Director (Karan Johar), and Best Story (Shibani Bathija). It was also screened at various international film festivals, including the Berlin International Film Festival, and was the highest-grossing Bollywood film in overseas markets till 2018. In conclusion, My Name Is Khan is one of the most heart-warming and emotionally resonant films ever made in Hindi cinema. It is a must-watch for anyone looking for a cinematic experience that combines romance, drama, and social commentary in a beautiful package.