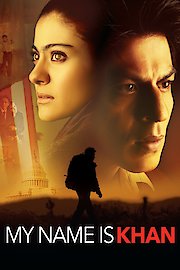 Watch My Name Is Khan
"An Ordinary Man, An Extraordinary Journey ... FOR LOVE."
PG-13
2010
2 hr 41 min
50
My Name is Khan is a Indian film in both the Hindi and English languages; the movie is set in the Indian city of Mumbai and at various locations in the U.S. Controversy surrounded the production and opening of My Name is Khan because of its sensitive subject matter regarding the treatment of Muslim and people of Indian descent living and working in the U.S. Amongst fans of Bollywood films the production of My Name is Khan was eagerly anticipated as it saw the first pairing of actors Shahrukh Khan and Kujol who had appeared in a number of films together in the 1990s, but in none together since 2001. The movie tells the story of Rizwan Khan who has the ability to repair not only mechanical objects, but the relationships of his family and friends. As a child Rizwan's Asperger's Syndrome goes undiagnosed and after his Mother dies Rizwan joins his more independent brother in the U.S.; Rizwan is finally diagnosed with Asperger's Syndrome. Life appears to be going well for the Khan family and Rizwan begins a relationship with Mandira, a Hindi woman with a young son. The movie takes a darker turn when the 9/11 attacks on New York City and Washington D.C. take place; Mandira lives next door to a reporter and his family, the reporter later travels to cover the Afghanistan war and is killed during his assignment. Mandira and Rizwan now face the prejudice of American's that they are terrorists; as tensions in their area of San Fransisco grow Mandira's son is murdered by a gand of local youths. Mandira now breaks off her relationship with Rizwan, telling him to travel to meet the President of the United States and tell him My name is Khan and I am not a terrorist. Rizwan now sets off on a journey to meet the President and sees him arrested as a terrorist; as he travels to find the President, Rizwan finds acceptance in the southern state of Georgia where he helps a small town rebuild after a hurricane and is reunited with Mandira. The 162 minute My Name is Khan was critically acclaimed and won various awards for both the production and acting. The movie was released in 2010 and was the top grossing Bollywood movie released in February of all time.