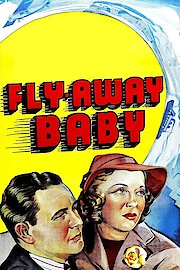 Watch Fly Away Baby
"She Chased a Man Around the World to Marry Another!"
Passed
1937
1 hr
Fly Away Baby is a classic screwball comedy from 1937 starring Glenda Farrell, Barton MacLane, and Gordon Oliver. The film follows a group of reporters who are chasing a lead on a murder case, but things quickly take a turn for the comedic when a baby is mistaken for the victim and gets caught up in the chaos. The film begins with a murder investigation, but quickly switches gears as the reporters start to investigate a different story: the disappearance of a famous singer named Rosita Marstini (played by Lola Lane). The reporters are convinced that Marstini has been kidnapped, and they set out to find her and break the story.
However, their investigation takes an unexpected turn when they stumble upon a baby carriage containing a crying infant. Assuming that the baby must be the missing Rosita Marstini, the reporters take the child with them as they continue to investigate the case.
As they follow more leads, the reporters start to realize that the baby they have taken in is not Rosita Marstini, but the child of a wealthy couple who had been kidnapped earlier that day. The reporters decide to keep the baby with them in order to protect it from the kidnappers and to use it as bait to catch them.
What follows is a series of wacky mishaps and misunderstandings as the reporters try to navigate the chaos surrounding the baby while also trying to solve the case. Along the way, they encounter a cast of colorful characters, including a hapless inventor named George (played by Walter Catlett) who is convinced that he has created a device that can communicate with aliens, and a tough-talking police lieutenant named Jim (played by Barton MacLane) who is determined to solve the case no matter what.
As the film progresses, the reporters begin to develop a bond with the baby they have taken in, and they start to realize that they are willing to risk everything to keep the child safe. Meanwhile, the kidnappers become increasingly desperate and dangerous, leading to a climactic showdown between them and the reporters.
Overall, Fly Away Baby is a classic screwball comedy that is sure to leave audiences laughing. The film is filled with hilarious misunderstandings, witty banter, and slapstick humor, all wrapped up in a suspenseful murder mystery. Glenda Farrell, Barton MacLane, and Gordon Oliver all give standout performances, bringing their characters to life with perfect comedic timing and plenty of heart. Whether you're a fan of classic comedies or just looking for a fun and entertaining movie to watch, Fly Away Baby is definitely worth a look.