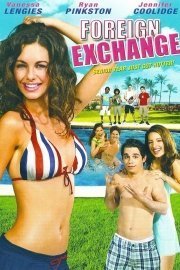 Watch Foreign Exchange
"Senior year just got hotter!"
R
2008
1 hr 25 min
Foreign Exchange is a 2008 comedy film directed by Danny Roth and starring Ryan Pinkston, Vanessa Lengies, and Randy Wayne. The movie follows four high school friends who, in an attempt to escape their mundane lives, decide to travel to Europe for a study abroad program. The protagonists of the movie are Dave (Ryan Pinkston), a diminutive yet confident ladies' man, his best friend and wingman, Tucker (Hunter Parrish), a good-looking, easy-going football player, his girlfriend Carli (Vanessa Lengies), a shy and compassionate girl with an interest in photography, and Morris (Randy Wayne), a rather uptight and by-the-books student who is constantly worried about his grades.
The four friends end up in Switzerland, where they are supposed to study international business for a few weeks. However, upon arrival, they find out that their program has been abruptly cancelled, and they are left on their own in a foreign country, with no plan or itinerary.
The first half of the movie is dedicated to showing the group's misadventures and struggles to adapt to the new culture around them. They quickly realize they are not equipped to handle the cultural differences, the language barrier, or the local customs. They also struggle to find a new place to stay, as their original accommodations have been cancelled along with their program.
Amidst all the chaos, the group finds solace in the company of another American student, Ashley (Tania Raymonde), who is in a similar situation. Ashley is a confident and outgoing student who quickly takes charge of the group and shows them how to have fun in the city. She takes them to clubs, introduces them to locals, and teaches them how to integrate with the Swiss lifestyle.
As the days go by, the friends start to loosen up and have the time of their lives, experiencing new things and making new friends. Dave falls in love with a French exchange student named Isabelle (Bridgit Mendler), and Morris realizes that he too can let loose and have fun, even if it means deviating from his original plan.
However, their newfound freedom comes with a cost. As they indulge in their new lifestyles, they begin to forget about their responsibilities back home. Morris starts to fail his classes, Tucker puts his football scholarship in jeopardy, and Carli realizes that she misses her friends and family.
The second half of the movie takes a more dramatic turn, as the friends start to face the consequences of their actions. They must come to terms with the fact that their carefree lifestyle cannot last forever, and that they must eventually face their problems back in the US.
Throughout the movie, Ryan Pinkston shines as the charismatic and hilarious Dave, providing most of the movie's comedic relief. Vanessa Lengies also has a standout performance, as she portrays Carli's emotional struggles with authenticity and depth.
The movie's setting in Switzerland provides a beautiful backdrop for the events of the story, with stunning scenery and architecture throughout. The film's soundtrack also adds to the festive and upbeat mood, with a mix of pop and dance tracks.
Overall, Foreign Exchange is a fun and lighthearted comedy that will appeal to fans of coming-of-age movies. While it may not break any new ground in terms of originality, the movie delivers on its promise of laughter, drama, and heartwarming moments.
Foreign Exchange is a 2008 comedy with a runtime of 1 hour and 25 minutes. It has received mostly poor reviews from critics and viewers, who have given it an IMDb score of 4.0.