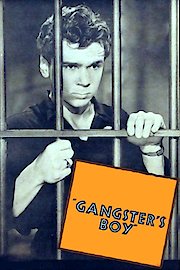 Watch Gangster's Boy
"Yesterday CHEERED! Today SHUNNED!"
NR
1938
1 hr 18 min
Gangster's Boy is a 1938 crime drama film directed by William Nigh and starring Jackie Cooper, Robert Warwick, and Lucy Gilman. The film follows the story of a young boy named Frankie (Jackie Cooper) who is brought up by his gangster father, Big Mike (Robert Warwick) in New York City. Despite living in poverty, Frankie is content with his life until one day his father's criminal activity catches up with him and he is arrested. Forced to leave his father behind, Frankie is taken in by a kindly farmer and his daughter, who teach him the value of hard work and honesty.
As Frankie grows up, he struggles to overcome his past and fit in with his new community. Eventually, he falls in love with his foster sister, Peggy (Lucy Gilman) but finds that his troubled past and criminal ties may get in the way of their relationship.
The film explores themes of redemption, loyalty, and the struggle to overcome one's past. Through the character of Frankie, the film asks the question: can someone with a criminal past ever truly leave it behind and start anew?
The performances in Gangster's Boy are strong, particularly that of Jackie Cooper who plays Frankie with a sensitivity and vulnerability that makes it easy to root for his character. Robert Warwick is also excellent as Big Mike, delivering a performance that is both menacing and sympathetic.
While the film does have its share of melodramatic moments and predictable plot twists, its strong performances and exploration of the complexities of redemption make it a worthwhile watch. At its core, Gangster's Boy is a story about the power of love and the human capacity for change.
Gangster's Boy is a 1938 drama with a runtime of 1 hour and 18 minutes. It has received moderate reviews from critics and viewers, who have given it an IMDb score of 6.0.