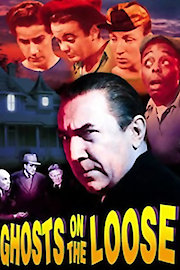 Watch Ghosts on the Loose
"You'll yell with glee when these happy-go-lucky hooligans invade the shivery domain of the Man of a Thousand Horrors! It's Chill-arious!"
Approved
1943
1 hr 7 min
Glimpy's sister is getting married to Jack, a successful engineer. The couple have decided to move into a bargain house, but the East Side Kids know that it needs some work. They decide to fix the place up a little for the soon-to-be newlyweds because it would be a nice wedding present. When the kids arrive at the location, they enter the wrong house and begin to work. As they are working, they start to realize that they are not alone. There are some strange occurrences, like men popping in and out of the woodwork. Now the kids think they have to get rid of the ghosts or Glimpy's sister will start her new married life miserably.