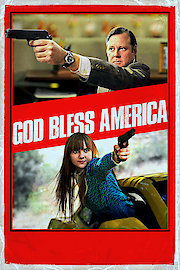 Watch God Bless America
"Taking out the trash, one jerk at a time."
R
2012
1 hr 45 min
56
God Bless America is a dark comedy film from 2011 directed by Bobcat Goldthwait. The movie stars Joel Murray and Tara Lynne Barr in the lead roles, supported by Mackenzie Brooke Smith in a supporting role. The film follows the story of Frank, a divorced and terminally ill man, who has had enough of the negativity and ugliness in the world. He decides to take matters into his own hands and embark on a killing spree, targeting only those people whom he feels are contributing to the downfall of society. The movie starts with Frank (Joel Murray), a middle-aged and downtrodden man who has had enough of the world he lives in. His job is going nowhere, his ex-wife and daughter hate him, and he is terminally ill with a brain tumor. One day, while flipping through TV channels in his bleak apartment, Frank comes across a reality show featuring a young and obnoxious teenage girl named Chloe (Mackenzie Brooke Smith). He is disgusted by her behavior and decides to take action against her. He acquires a gun and drives to Chloe's high school, where he waits for her to come out. When she does, he shoots her, but shortly after, he realizes that he has killed a classmate instead of Chloe. After this incident, Frank meets Roxy (Tara Lynne Barr), a teenage girl who shares his frustration with the world. Together, they embark on a killing spree, targeting only those people whom they feel are contributing to the downfall of society. They start with a couple who talk loudly on their phone during a movie, move on to a man who is a fanatic supporter of a conservative news channel, and eventually even target a group of hate-mongering preachers. As they move from town to town, killing those who they deem to be deserving of death, they start to gain a following on social media. However, they also attract the attention of the police, who start to track them down. Frank and Roxy's killing spree culminates in a spectacular and violent confrontation, in which they face the consequences of their actions. God Bless America is a satirical take on American society and culture. The movie makes a commentary on how society has become saturated with negativity, cruelty, and ugliness. It portrays the frustrations and anger of the protagonists in a twisted and dark manner but with a sense of humor. The movie's central themes are anti-celebrity culture, anti-bullying, anti-consumerism, anti-hate, and anti-corporatism. Joel Murray is exceptional in the role of Frank. He portrays a man who is fed up with the world but still has a conscience. His nuanced performance simultaneously elicits disgust, empathy, and sympathy from the audience. Tara Lynne Barr's performance as Roxy, the precocious and witty teenager, is equally compelling. She provides comic relief while also delivering some of the movie's most poignant lines. Mackenzie Brooke Smith's supporting role as Chloe, the obnoxious and entitled teenager, is convincing. She is the movie's catalyst, and her death sets the plot in motion. Her character is a critique of American youth and reality television. The movie's direction is expertly done by Bobcat Goldthwait. He manages to blend dark humor and pathos seamlessly. The pacing is excellent, and the cinematography is top-notch. The soundtrack is also worth mentioning, featuring music from artists ranging from Alice Cooper to Creedence Clearwater Revival. God Bless America is not for everyone. It is a movie that requires a certain level of understanding and acceptance of the satirical and dark elements. The movie is not an incitement to violence but rather a commentary on the violence and negativity present in American society. The movie may make some uncomfortable, but it serves its purpose in shining a light on the dark corners of society. In conclusion, God Bless America is a unique and thought-provoking movie. It is a satire that manages to walk the line between humor and horror. The movie has a strong message that many will relate to, but it also has a dark and twisted sense of humor that some may find troubling. Regardless, it is an impressive movie that should not be missed.