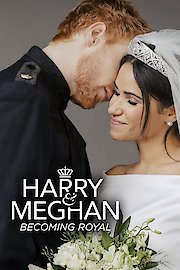 Watch Harry & Meghan: Becoming Royal
TV-PG
2019
2 hr 34 min
Harry & Meghan: Becoming Royal is a romantic drama TV movie released in 2019. It is a sequel to the 2018 movie Harry & Meghan: A Royal Romance. Directed by Menhaj Huda, it features Charles Shaughnessy, James Dreyfus, and Tiffany Smith in the lead roles. The movie is based on the lives of Prince Harry and Meghan Markle, who got married in May 2018. The story follows their journey as they navigate the challenges and responsibilities of being a part of the royal family. The movie explores their relationship dynamics and the pressures they face from the public and the media.
Tiffany Smith plays the role of Meghan Markle, a successful actress who is engaged to Prince Harry. As she prepares to become a member of the royal family, she faces numerous challenges, including the scrutiny of the press, the expectations of the public, and the traditions of the royal family. Throughout the movie, she struggles to find a balance between her own identity and her role as a part of the royal family.
Charles Shaughnessy plays the role of Prince Charles, the father of Prince Harry. He is depicted as a supportive and caring father who tries to guide his son through the challenges of royalty. He is also shown to be apprehensive about Meghan's background and questions her ability to cope with the pressures of being a part of the royal family.
James Dreyfus plays the role of Leonard, a royal insider who tries to teach Meghan the etiquette and traditions of the royal family. He often clashes with her modern ideas and unconventional methods, which leads to conflicts between them.
The movie also portrays the relationship between Prince Harry and Meghan Markle, highlighting their love and support for each other. It depicts the moments leading up to their grand wedding and the difficulties they face as a couple in the public eye.
The cinematography is impressive, capturing the beauty and grandeur of the royal palace and the scenic locations of England. The background score is also noteworthy, emphasizing the emotional moments of the movie.
Overall, Harry & Meghan: Becoming Royal is a charming and engaging movie that explores the lives of the royal couple. It offers a fresh perspective on their relationship and their journey as they transition into their new roles in the royal family. With strong performances and stunning visuals, the movie is a must-watch for all fans of the royal family.
Harry & Meghan: Becoming Royal is a 2019 romance movie with a runtime of 2 hours and 34 minutes. It has received mostly poor reviews from critics and viewers, who have given it an IMDb score of 3.8.