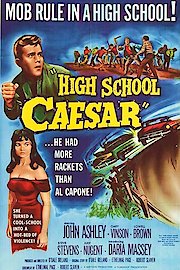 Watch High School Caesar
"He had more rackets than Al Capone!"
NR
1960
1 hr 15 min
High School Caesar is a drama film from 1960, directed by O'Dale Ireland and produced by Roger Corman, known for his low-budget productions. The film stars John Ashley, Gary Vinson, and Steve Stevens in the lead roles. The film follows the story of Matt Stevens (John Ashley), a high school student who wants to be the king of his school. Matt is a tough guy who is not afraid of anyone and has no tolerance for disrespect. He wants everyone to know that he is in charge, and he is willing to use any means necessary to achieve his goal.
Matt has a loyal friend named Johnny (Gary Vinson), who helps him with his schemes. Together, they bully the other students and extort money from them. However, things start to get out of control when Matt falls for Diane (Judy Nugent), a girl who is not interested in him. Matt's obsession with Diane leads him to make some bad decisions, and he soon finds himself in trouble.
Meanwhile, the school's principal, Mr. Fenton (Lowell Brown), is trying to keep the students in line. He is aware of the trouble that Matt is causing and tries to put an end to it. However, Matt does not like to be told what to do and continues to cause chaos.
As the story progresses, Matt becomes more ruthless and his actions escalate. He starts to use violence to get what he wants, and his friends begin to desert him. Matt's behavior eventually leads to a tragic ending.
High School Caesar is an interesting portrayal of teenage delinquency in the 1950s. The film captures the rebellious spirit of the times and is filled with elements of teenage rebellion, gangs, and juvenile delinquency. The film is a fascinating look at the mindset of teenagers who feel like they are invincible and above the law.
One of the highlights of the film is John Ashley's portrayal of Matt Stevens. He perfectly captures the character's arrogance and ruthlessness, making him a believable and compelling protagonist. The supporting cast, including Gary Vinson as Johnny and Steve Stevens as Boogie, also deliver strong performances.
The film's production values are typical of low-budget productions from the era. However, this does not detract from the film's overall impact. The cinematography is effective in capturing the mood of the film, and the score by Ronald Stein perfectly complements the action onscreen.
In conclusion, High School Caesar is a compelling drama that captures the spirit of rebellious youth culture of the 1950s. John Ashley delivers a standout performance as the film's protagonist, making him a relatable and memorable character. While the film may not have the polish and finesse of bigger-budget productions, it's a valuable addition to the genre of juvenile delinquency films of the era.
High School Caesar is a 1960 drama with a runtime of 1 hour and 15 minutes. It has received mostly poor reviews from critics and viewers, who have given it an IMDb score of 5.0.