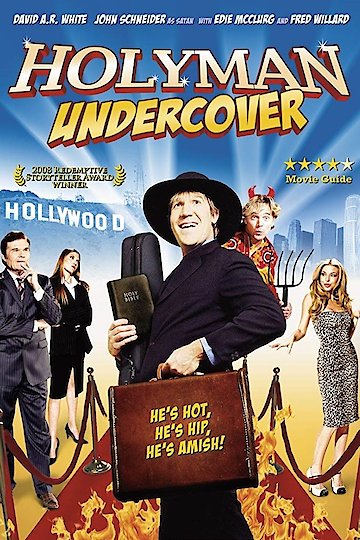 Watch Holyman Undercover
NR
2008
1 hr 22 min
Holyman Undercover is a Christian comedy movie that will make you laugh and at the same time inspire you. The movie is directed by David A.R. White and stars some of the most talented and experienced actors in the industry such as David A.R. White, Fred Willard, and Andrea Logan. The story revolves around Roy Weichbrodt (David A.R. White), a struggling actor who lands a role in a Christian movie that is expected to be a success. Despite his excitement, Roy is disappointed to find out that the movie is being produced by a fraudster who takes advantage of people's faith to make a quick buck. Roy, however, decides to go along with the fraudster's schemes, hoping to expose him and prevent him from exploiting innocent and gullible people.
To do this, Roy disguises himself as a preacher and infiltrates the fraudster's mega-church. Here, he meets some of the most interesting characters, including the head pastor (Fred Willard), the church's musical director (Andrea Logan), and a group of devoted worshippers who would do anything to support their church.
Roy's mission becomes complicated when he meets the head pastor's daughter, Emily (Jaci Velasquez). Emily is a beautiful and determined young woman who is passionate about the church and the work it does. She is also engaged to marry her father's protégé, a young minister named Chase (Staci Keanan). When Roy falls for Emily, his mission becomes even more challenging as he struggles to balance his feelings for her and his desire to expose the fraudster.
The movie is filled with hilarious moments that will make you laugh out loud. David A.R. White, who also directs the movie, does an excellent job of bringing humor to the movie without compromising its message. Fred Willard, who plays the head pastor, is also outstanding in his role as he brings his vast experience in comedy to bear on the character.
Despite the movie's humorous tone, it delivers a profound message about faith and the dangers of exploiting people's beliefs for personal gain. The movie teaches us to be wary of people who claim to know the truth, and to always verify their claims before acting on them. It also reminds us of the importance of integrity and honesty, even in the face of adversity.
The climax of the movie is a thrilling and suspenseful scene that will keep you on the edge of your seat. Without giving away too much, it involves a high-speed chase, a helicopter, and a daring rescue mission. It is a fitting end to an entertaining and inspiring movie.
In conclusion, Holyman Undercover is a must-see movie for anyone looking for an entertaining and inspiring Christian comedy. It is well-acted, well-directed, and well-written, with a powerful message that will stay with you long after the movie is over. David A.R. White and his team have done an excellent job of creating a movie that will make you laugh, cry, and think. Do not miss this movie!
Holyman Undercover is a 2008 comedy with a runtime of 1 hour and 22 minutes. It has received mostly poor reviews from critics and viewers, who have given it an IMDb score of 4.2.