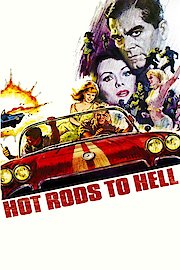 Watch Hot Rods to Hell
"Hotter than Hell's Angels!"
Approved
1967
1 hr 32 min
Ever since a reckless driver crashed into Tom Phillips' car, causing a back injury, his life has been miserable. He decides he needs a change and decides to move with his wife and children from Boston to California to start a new life as motel owners in Mayville. But the family encounters a group of hot rodders named Gloria, Duke and Ernie as they approach their final destination. After Tom scolds them for reckless driving, the hot rodders decide to exact revenge by doing everything they can to terrorize the family.