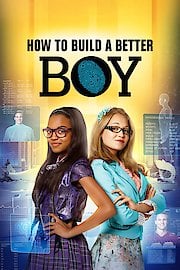 Watch How to Build a Better Boy
"Never underestimate two girls with a plan."
TV-G
2014
1 hr 49 min
How to Build a Better Boy is a 2014 Disney Channel original movie starring China Anne McClain, Kelli Berglund, and Marshall Williams. The movie follows the story of two teenage girls, Mae Hartley (played by Berglund) and Gabby Harrison (played by McClain), who are determined to create the perfect boyfriend using their scientific skills. Mae and Gabby are best friends and science whizzes who dream of creating the perfect guy. When Mae's military father goes on a mission overseas, and she is forced to attend a new school, she realizes that her lack of popularity and social skills might prevent her from achieving her goal. But when Gabby comes up with a brilliant plan to hack into a top-secret government database to create the perfect boyfriend, they set their plan in motion. Their creation, Albert (played by Williams), is a perfect specimen - he's good-looking, intelligent, and charming. But soon, Mae and Gabby realize that Albert's "perfection" is not all it's cracked up to be. As they attempt to navigate the complicated world of high school, they must also deal with the consequences of their creation and the secrets that they have kept from Albert. The movie explores themes of friendship, loyalty, and identity. It also addresses important issues facing teenagers today, such as bullying and social pressures. Berglund and McClain deliver excellent performances as Mae and Gabby, respectively. They have great chemistry and bring a sense of humor to the movie that is both relatable and engaging. Williams is also impressive as Albert, the perfect boyfriend. He manages to capture both the charm and the vulnerability of a character who is struggling to understand his identity and his place in the world. The supporting cast, including Ashley Argota as Mae's nemesis Nevaeh Barnes, also delivers solid performances. The movie is well-paced and keeps the audience engaged from beginning to end. The special effects used to bring Albert to life are impressive and add to the overall appeal of the film. The soundtrack, featuring songs by artists such as Caro Emerald and The Cataracs, adds to the movie's fun and energetic vibe. How to Build a Better Boy is an entertaining and uplifting movie that is perfect for families and teenagers. It delivers positive messages about the importance of self-acceptance and the value of true friendship. It is a great reminder that sometimes, the perfect person for you is the one who accepts you for who you are.