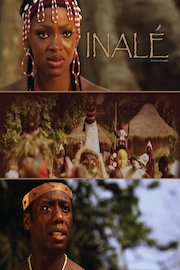 Watch Inale
NR
2010
1 hr 21 min
Inale is a Nigerian movie that explores the intricacies of love, sacrifice, and destiny. Directed by Jeta Amata and produced by Keke Bongos, the movie stars Mbong Amata as Inale, a young mermaid who falls in love with a human named Edem (played by Hakeem Kae-Kazim). Other notable casts include Awuese Awunde, as the mermaid mother, and Caroline Chikezie, as the antagonist.
The movie begins with the introduction of the mermaid kingdom, where Inale resides with her mother and their people. Inale, a beautiful and gifted creature, has the power to heal people with her voice. Her singing is so enchanting that it can even summon the gods. However, her mother warns her against using her powers for humans as it could lead to disastrous consequences.
Despite her mother's warning, Inale becomes curious about the world beyond the sea and often ventures to the shore to observe humans. One day, she sees Edem and falls in love with him at first sight. Edem, a talented musician, is on vacation in the fishing village, where he meets Inale. They form an instant connection, and Inale saves Edem from drowning in the sea.
Their love is put to the test when Inale's mother forbids their relationship. She reminds Inale that mermaids and humans are not meant to be together as they come from different worlds. Inale, torn between her love for Edem and her loyalty to her mother, seeks the wisdom of the gods. The gods warn that anyone who falls in love with a mermaid will have to choose between giving up their life or their love.
Despite the warning, Edem and Inale continue to see each other in secret, and their love grows stronger. However, their relationship is threatened when Angela (Caroline Chikezie), a jealous and powerful woman, plots to separate them. Angela is a wealthy and headstrong woman who desires Edem for herself. She is ruthless and will stop at nothing to get what she wants, including using her influence to manipulate people.
As the story unfolds, Inale must face several challenges, including the wrath of the gods, the disapproval of her mother, and the evil schemes of Angela. She must decide whether to give up her life or risk everything to be with Edem. Inale's sacrifice will test Edem's love and reveal the true nature of the people around them.
Inale is a visually stunning movie that showcases the beauty of Nigeria's culture, music, and people. The movie features vibrant costumes, breathtaking scenery, and a captivating soundtrack that blends traditional and contemporary music. The actors give an outstanding performance, portraying their characters with depth and authenticity. Mbong Amata's portrayal of Inale is particularly striking, as she exudes grace, strength, and vulnerability in equal measure.
Overall, Inale is a poignant and timeless love story that will resonate with audiences of all ages and backgrounds. It is a celebration of love, sacrifice, and the enduring power of the human spirit.
Inale is a 2010 music movie with a runtime of 1 hour and 21 minutes. It has received mostly positive reviews from critics and viewers, who have given it an IMDb score of 7.2.