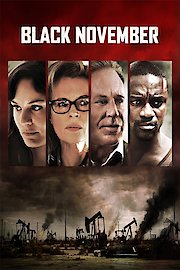 Watch Black November
"Blood Will Be Spilled"
TV-14
2015
1 hr 35 min
31
Black November is an action-packed and intense portrayal of the dramatic events that unfold in the oil-rich Niger Delta region of Nigeria. At the center of this film is the struggle between the local people who have been neglected and abused by the government and multinational oil companies, and a group of activists who are fighting to bring attention to their plight.
The film opens with a glimpse of the daily life of the people of the Niger Delta, who have been suffering for decades due to the environmental damage caused by the oil industry. The pollution and degradation of the land and water have had a devastating impact on their health, their livelihoods, and their future.
We then meet the film's protagonist, Ebiere (Mbong Amata), a young woman who has lost her father to the violence that has erupted in the region. Ebiere channels her grief and anger into activism, and together with her brother, Kaniye (Enyinna Nwigwe) and other members of their community, they stage peaceful protests and demand that the oil companies and government take responsibility for the damage they have caused.
But their efforts are met with brutality and oppression from the government and the military, who are in cahoots with the oil companies. The activists are arrested, beaten, and even killed, and their families become targets of violence and intimidation.
Black November also introduces us to a range of other characters, including the charismatic and ruthless militant leader, Tamuno (Hakeem Kae-Kazim), who fights against both the government and the oil companies. Tamuno is a complex figure, who is both feared and respected by those around him.
As the violence and oppression escalate, the film builds towards an explosive climax that forces the characters to confront their fears, their loyalties, and their humanity. Throughout the film, the energy and tension are heightened by a fast-paced soundtrack and stunning cinematography that captures the beauty and chaos of the Niger Delta.
Beyond its thrilling action sequences, Black November is a powerful and thought-provoking film that shines a light on a region and a people who have been overlooked and exploited for too long. The film raises important questions about the relationship between corporations, governments, and communities, and about the limits of peaceful protest when faced with systemic injustice.
Overall, Black November is a must-see film that combines gripping storytelling with a profound social message. It is a film that is both entertaining and enlightening, and it will leave you engaged, inspired, and more informed about the struggles faced by communities around the world who are fighting for their rights and their dignity.
Black November is a 2015 drama with a runtime of 1 hour and 35 minutes. It has received mostly poor reviews from critics and viewers, who have given it an IMDb score of 5.3 and a MetaScore of 31.