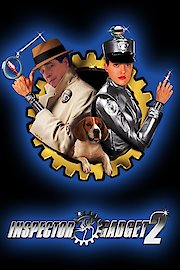 Watch Inspector Gadget 2
"Inspect the unexpected."
Inspector Gadget comes back for the second installment of the Inspector Gadget series. Dr. Claw is back, escaping from Riverton Prison. While this is happening, the Chief is replacing the glitch Inspector with a new model, the G2. G2 is a woman and Gadget wants desperately to date her. Every time the Inspector tries to woo his new found love, she turns him down. Gadget it released from his duties so that G2 can work. The Inspector's niece comes back once again to assist her uncle through his problems. She shows him a job in the paper that she believes is an ad that Claw place. He goes to find Claw but, fails to do so. Instead the Inspector causes a fight. G2 shows up to take care of the fight and he tries to get her attention again. The Inspector ruins the stakeout that G2 in the middle of which causes him to lose his job. G2 continues to attempt to capture Claw on her own but she fails because he uses a magnet to trap her. She is ordered to be dismantled because of her failure. She runs into Gadget and tells him the news about her failure. He tries to cheer her up although he is unsuccessful. Penny breaks into a factory that she knows is Claw's hideout. While listening to his plans, she attempts to escape but she is captured. Her dog, Brain is with her and he escapes to find Gadget. When he finds Gadget, he tries to tell him that something is wrong. G2 has been reactivated by Gadget and the two of them fashion a translator to understand what Brain is telling them. They learn that Penny has been captured and rush to save her. When they find Penny, she has been strapped to a bunch of explosives. Gadget saves his niece while G2 fights off the minions. They try to get Claw but he escapes.