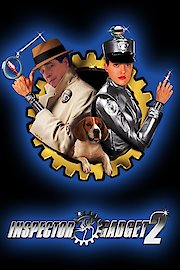 Watch Inspector Gadget 2
"Inspect the unexpected."
Inspector Gadget 2 is a 2003 American science-fiction comedy film directed by Alex Zamm and starring French Stewart, Elaine Hendrix, Tony Martin, and Caitlin Wachs. This movie is a sequel to the 1999 film Inspector Gadget and was produced by Walt Disney Television Animation and DiC Entertainment. The story follows the bumbling cyborg police officer Inspector Gadget (played by French Stewart), who has retired from service but is still on good terms with his former colleagues. While trying to enjoy his retirement, he is asked to return to active duty by the Chief of Police, who needs his help in stopping a new evil villain known as "Claw" (played by Tony Martin). Claw is a wealthy industrialist and Gadget's old nemesis who has returned to take over the city using his high-tech gadgets.
However, things are not as they seem, and Gadget soon discovers that Claw is not who he appears to be. With the help of his niece, Penny (played by Caitlin Wachs), and his talking car, Gadget must outwit Claw and his minions to save the city and restore his own reputation as a hero.
The movie is a classic family-friendly comedy that offers fun and adventure to viewers of all ages. The special effects in this movie are much improved compared to its predecessor, and the action scenes are well choreographed and entertaining. One of the significant improvements in this sequel is the tighter plot, which makes it more engaging and captivating than the first movie.
The lead cast members are all excellent in their roles, especially French Stewart who masterfully portrays the clumsy yet lovable character of Gadget. He is funny, charming, and endearing, making his performance one of the highlights of the movie. Elaine Hendrix also stands out as the villainous Brenda Bradford, Claw's right-hand person, who is menacing and cunning in equal measure.
In contrast, Caitlin Wachs is a perfect fit as Penny, Gadget's teenage niece, who helps him in his mission. She brings a youthful energy to the movie and acts as a good counterbalance to Gadget's older and more technologically challenged persona.
Overall, Inspector Gadget 2 is an enjoyable and entertaining movie that offers a wholesome entertainment experience for the whole family. It is a definite improvement over its predecessor and manages to capture the spirit of the original cartoon while introducing new elements to keep it fresh and exciting.
Inspector Gadget 2 is a 2003 action movie. It has received mostly poor reviews from critics and viewers, who have given it an IMDb score of 3.5.