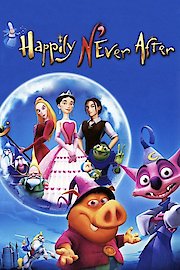 Watch Happily N'Ever After
"Fairy Tale Endings Aren't What They Used To Be."
PG
2006
1 hr 26 min
28
The movie Happily N'Ever After from 2006 is a family-friendly animated adventure film that puts a dark twist on classic fairy tale stories we all know and love. The movie is directed by Paul J. Bolger and is produced by John H. Williams, the same person who produced the animated hit Shrek. Happily N'Ever After follows the story of Ella, voiced by Sarah Michelle Gellar, who is a young girl working in a magical world called the Land of Fairy Tales. The Land of Fairy Tales is controlled by the wizard named Rumpelstiltskin, voiced by Michael McShane. Ella works for her stepmother, Frieda, voiced by Sigourney Weaver, who is the head of the Fairy Tale Administration. Fairy Tale Administration is in charge of making sure that all the fairy tales go according to plan, with a happy ending for all characters involved. However, Frieda has her own agenda, and she wants to take over the Land of Fairy Tales and become the new ruler. To achieve this, she plans to sabotage all the happy endings in classic fairy tales. Ella is the only one who can stop Frieda and save the Land of Fairy Tales from falling into chaos. With the help of Munk, voiced by Wallace Shawn, and Mambo, voiced by Andy Dick, two bumbling assistants of Rumpelstiltskin, Ella embarks on a quest to restore order to the fairy tale world. Along the way, Ella meets her prince charming, Rick, voiced by Freddie Prinze Jr. who is also on his own quest to save the fairy tale world. Together, with a team of fairy tale characters, they go on an adventure that takes them through classic fairy tales like Cinderella, Little Red Riding Hood, and Snow White. The characters encounter various twists and turns as they try to restore the happy endings of their respective fairy tales. However, it's not an easy journey, as Frieda has her minions who are determined to stop Ella and Rick from succeeding. Happily N'Ever After is filled with quirky humor, great animation, and engaging characters. The voice actors all deliver their lines with enthusiasm, making each character come to life. The animation is bright and colorful, with detailed backgrounds, and interesting character designs that give each character their unique personality. One of the highlights of the film is the dark humor that provides a fresh perspective to classic fairy tales. The story takes on a darker tone as it explores the consequences of not having a happy ending. It also tackles important themes like friendship, loyalty, and bravery. In conclusion, Happily N'Ever After is an entertaining animated adventure that puts a creative spin on classic fairy tales. It's perfect for families looking for a lighthearted movie filled with humor, action, and memorable characters. The film is suitable for all ages and is a great addition to any family's movie night.