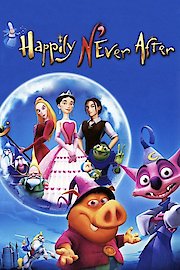 Watch Happily N'Ever After
"Fairy Tale Endings Aren't What They Used To Be."
PG
2006
1 hr 26 min
28
Happily N'Ever After starts off with a wizard who has the power to control each and every fairy tale while balancing good and evil in a land known as Fairy Tale Land. A girl named Ella, who also goes by the name Cinderella, slaves away as a servant taking care of her step family. She daydreams about being with the Prince during her busy days and nights. Ella's friend Rick decides to deliver invitations for everyone in town to attend the royal ball. To Ella, she only sees Rick as a good friend and nothing more, but to Rick, he wants nothing more than to be with Ella. Rick does everything he can to sweep Ella off of her feet and plans on meeting her at the royal ball. Unfortunately, Ella's stepmother, Frieda is granted full access to the Wizard's lair during the royal ball, which causes a series of unfortunate events to go completely wrong. Ella escapes her home and heads into the woods where she meets Munk and Mambo who are searching for the prince who is searching for Cinderella. They all head towards the home of the Seven Dwarfs. The Ice Queen tries to attack them but the dwarfs try to hold off the Queen and her trolls, helping them flee the area. Ella runs into Frieda once again and is tormented by her. Frieda tries to prevent Ella from marrying the prince so that she won't live in misery and Ella won't be able to find true happiness. Rick, Mambo and Munk sneak into the castle and fight Frieda for Ella. During the battle, Rick tries to protect Ella by taking a blast for her and goes into a deep sleep. Frieda creates a portal by accident and Ella pushes her in the portal making Frieda disappear. Shortly after this happens, Rick mysteriously wakes up from the spell and admits his undying love for Ella.