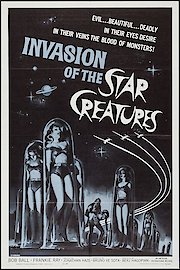 Watch Invasion of the Star Creatures
"Beautiful... Deadly... In their Veins the Blood of Monsters!"
Approved
1962
1 hr 10 min
Invasion of the Star Creatures is a sci-fi/comedy that tells the tale of Private Philbrick and Private Penn, who are stationed at an especially dull military fort. The duo is suddenly assigned to a group to explore a vast new cavern discovered near the base and they are attacked by hideous vegetable aliens that are seven feet tall, commanded by two strikingly beautiful alien women, known as Dr. Puna and Prof. Tanga, from a planet called Kalar and want to conquer the Earth. Philbrick and Penn escape and rally a defense force for Earth but it may not be enough.