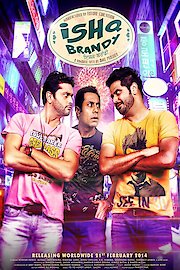 Watch Ishq Brandy
2014
2 hr 4 min
Ishq Brandy is a Punjabi-language romantic comedy film that was released in 2014. The film features an ensemble cast of popular Punjabi actors, including Roshan Prince, Alfaaz, Binnu Dhillon, Wamiqa Gabbi, and Shobhita Rana. Directed by Amit Prasher and produced by Future Cine Vision, the film follows the classic formula of a romantic comedy and delivers a promising entertainment package.
The story revolves around three friends - Gura (Roshan Prince), Deepi (Alfaaz), and Lucky (Binnu Dhillon). All three of them are in their mid-twenties, and all of them are struggling to make ends meet. Gura is trying to find love in his life and is on a mission to impress a girl called Sazi (Wamiqa Gabbi), whom he falls in love with at first sight. Deepi is an aspiring singer who dreams of making it big in the world of music, but he has a terrible stage fright problem that prevents him from performing. Lucky is an unemployed man who is searching for a job but ends up getting into trouble all the time.
The story takes many twists and turns as the three friends try to overcome their personal obstacles and achieve their dreams. Gura tries various methods to impress the girl he loves, but his efforts all go down the drain. In the meantime, Deepi meets a beautiful girl named Dimple (Shobhita Rana), who helps him overcome his stage fright and eventually becomes his muse. Lucky's search for a job lands him in a soup when he falls into the trap of a gangster who takes advantage of his naivety.
The plot of the movie is fast-paced and keeps the audience engaged. The film's music is also a highlight and features chart-topping tracks by popular Punjabi singers, including Alfaaz, Sharry Mann, and Prabh Gill. The film's cinematography is also noteworthy, as the scenic beauty of Punjab is captured in a beautiful manner. The film's comedy is its real strength, and the whole cast delivers hilarious punchlines that keep the audience in splits.
Overall, Ishq Brandy is a fun and enjoyable movie that is perfect for a light-hearted night out with friends. It is a perfect blend of drama, romance, and comedy and is sure to entertain the viewers of all ages. The film's cast has done a commendable job, and their performances make the characters relatable to the audience. If you're a fan of Punjabi comedy movies, Ishq Brandy is a must-watch.
Ishq Brandy is a 2014 comedy with a runtime of 2 hours and 4 minutes. It has received moderate reviews from critics and viewers, who have given it an IMDb score of 5.3.