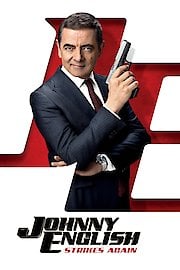 Watch Johnny English Strikes Again
"His licence renewed. His intelligence restricted."
PG
2018
1 hr 29 min
39
Johnny English Strikes Again is the third installment in the Johnny English franchise, released in 2018. The film stars Rowan Atkinson as the eponymous Johnny English, a bumbling MI7 secret agent who has been relegated to teaching new spies the art of espionage. However, when a cyber attack reveals the identities of all current undercover agents, Johnny English is brought out of retirement to track down the mastermind behind the attack. The film begins with Johnny English enjoying a peaceful retirement in a remote village in England, where he spends his days teaching schoolchildren about the art of spy gadgets. However, his world is turned upside down when a cyber attack exposes the identities of all current undercover agents, leaving MI7 with no choice but to bring back Johnny English from retirement. Despite his initial reluctance, English is soon back in his element, drawing on his decades of experience as a secret agent to track down the cyber criminal responsible for the attack. Along the way he is aided by his former partner, Angus Bough (played by Ben Miller), who now works in the technical department of MI7. Together they begin to unravel the mystery behind the cyber attack, which seems to be linked to a luxurious yacht owned by a wealthy tech mogul, Jason Volta. As Johnny and Angus delve deeper into the investigation, they find themselves up against a host of high-tech gadgets and state-of-the-art security systems, which Johnny - being decidedly old-school - struggles to navigate. Along the way, they encounter Ophelia, a mysterious woman played by Olga Kurylenko, who they believe may be involved in the cyber attack. However, as they get closer to the truth, it becomes clear that the situation is more complex than they initially thought, and that there may be a spy within their own organization. The film is filled with moments of comedy, largely owing to the comedic talent of Rowan Atkinson. His portrayal of Johnny English is both endearing and amusing, as he fumbles his way through high-stakes situations with trademark bumbling charm. The chemistry between Atkinson and Miller, who play off each other's physical comedy, is also a highlight of the film. The action sequences are well-executed, and the film's use of technology - from drones to virtual reality - adds a modern twist to the franchise. Despite the film's focus on tech, the plot remains largely predictable, and some of the comedic scenes can feel a bit forced. However, the film still manages to be an entertaining addition to the franchise, serving up a dose of nostalgia for fans of the original. Overall, Johnny English Strikes Again is a fun, light-hearted spy comedy that offers plenty of laughs and action, with a dose of nostalgia for fans of the original. While it doesn't break any new ground, it delivers on what it promises - an entertaining ride with Rowan Atkinson at the helm.