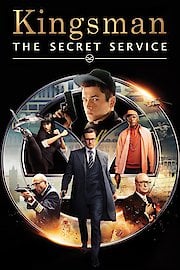 Watch Kingsman: The Secret Service
"Manners maketh man."
R
2015
2 hr 8 min
60
In the 2014 action-comedy film Kingsman: The Secret Service, directed by Matthew Vaughn and based on the comic book series of the same name by Mark Millar and Dave Gibbons, we follow the journey of a young, troubled street kid named Eggsy (Taron Egerton) as he is recruited by a top-secret spy organization known as Kingsman to help save the world from a diabolical tech billionaire named Valentine (Samuel L. Jackson) and his plan to unleash mass genocide. Eggsy, the protagonist of Kingsman: The Secret Service, is a young man with a dark past. His father, a Kingsman agent, died when he was young, and his mother's abusive boyfriend has left him with a lifetime of scars. One day, while running from the law and thinking his future may be looking bleak, he encounters Kingsman agent Harry Hart (Colin Firth), who offers him a chance to turn his life around and join a spy organization like the one his father belonged to. Eggsy soon learns that Kingsman is much more than a spy organization - it's a highly elite and secretive group that operates independently of any government and is dedicated to preserving global peace by any means necessary. As Eggsy undergoes rigorous training and learns the ins and outs of espionage, he also finds himself caught up in a larger plot involving Valentine, whose plan to release a deadly global epidemic is a threat to humanity. Filled with high-octane action, witty humor, and a cast of colorful characters, Kingsman: The Secret Service is an unabashedly fun and thrilling ride from start to finish. It's a movie that pays homage to classic spy films while simultaneously subverting their tropes and injecting them with a fresh, modern sensibility. At its core, Kingsman: The Secret Service is a story about unlikely heroes coming together to save the world against all odds. From Eggsy, who rises above his troubled past to become a top-notch spy, to Harry Hart, whose unwavering dedication to the Kingsman motto of "manners maketh man" makes him a formidable opponent to any villain, the characters in the film are both endearing and inspiring. In addition to its exceptional cast, Kingsman: The Secret Service also boasts impressive special effects and dazzling action sequences. From skydiving into a massive enemy compound to engaging in a brutal, hand-to-hand combat with henchmen, the film doesn't shy away from pushing the boundaries of what is possible on screen. Overall, Kingsman: The Secret Service is a masterful blend of action, humor, and heart that will keep you on the edge of your seat from beginning to end. Its combination of classic spy film tropes and modern sensibilities creates a truly unique and unforgettable viewing experience that is not to be missed. In conclusion, Kingsman: The Secret Service is a must-see movie that takes the spy genre to new heights with its fresh take on classic tropes and memorable characters. With a stellar cast, impressive action sequences, and a heartwarming message about the power of unlikely heroes, it's a film that will leave you feeling entertained and inspired.