Watch Ex Machina
"There is nothing more human than the will to survive"
In this science fiction thriller, a young coder wins a contest to spend a week being mentored by a famous tech genius. At the genius' high-tech home, the young man finds that he's being used to test out a new artificially intelligent robot's abilities to masquerade as a human.
|
2015
|
1 hr 48 min
|

/

10
Cast

Studio

Director

Alex Garland

Language

English
Ex Machina News
Trailer for New Alicia Vikander Movie Banned By TV Network
August 17, 2017 @ 6:09 am PST
|
Read More

Fall TV: HBO's 'Westworld' Gives Us More Self-Aware Robots
September 29, 2016 @ 7:48 am PST
|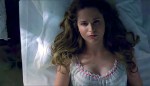 When the new HBO series Westworld debuts this week, it brings with it high expectations and a big production budget, and also some very familiar dramatic themes.
Read More

'Ex Machina' Actress Cast in 'Crazy Rich Asians'
April 11, 2017 @ 5:03 am PST
|
Read More


Watch Ex Machina Trailer

Watch Ex Machina Online - Watch online anytime anywhere: Stream, Download, Buy, Rent
Ex Machina is currently available to watch and stream, download, buy, rent on demand at Netflix, FlixFling VOD, Amazon, Vudu, Google Play, FandangoNow, iTunes, YouTube VOD online.