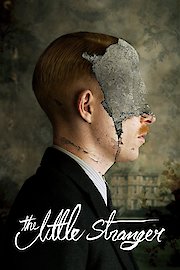 Watch The Little Stranger
"These delusions are contagious"
R
2018
1 hr 51 min
67
In the post-World War II England, a once-thriving family falls victim to the changing times as their property, Hundreds Hall, is beginning to decay. Dr. Faraday (Domhnall Gleeson) is a local doctor who is called to Hundreds Hall to tend to Betty (Liv Hill), one of the servant girls, and is subsequently asked to continue making visits to the estate by Mrs. Ayres (Charlotte Rampling), the matriarch of the family. As Faraday becomes more involved in the lives of the Ayres family, he begins to uncover dark secrets and a history of tragedy that has long plagued the estate. The arrival of Roderick (Will Poulter), Mrs. Ayres' son who has been scarred both physically and emotionally from the war, causes tensions to rise as he struggles to maintain his place in the family hierarchy. Meanwhile, Faraday begins to develop a close relationship with Caroline (Ruth Wilson), the only daughter of the Ayres family. Though she is initially cold and distant, the two begin to bond over their shared passion for the history of the estate and its former occupants. As supernatural occurrences become more frequent and mysterious, the characters are forced to confront the dark past of Hundreds Hall that has been kept hidden for far too long. The Little Stranger is a haunting and psychologically nuanced thriller that explores the complexities of family, class, and the lingering effects of trauma. Domhnall Gleeson delivers a captivating performance as the reserved and studious Dr. Faraday, whose own tragic past ties into the events unfolding at Hundreds Hall. Will Poulter is equally impressive as the tormented Roderick, whose struggles with PTSD and his changing role within his family provide a poignant exploration of the aftermath of war. Ruth Wilson shines as Caroline, whose intelligent and independent nature sets her apart from the rest of her family. Her relationship with Faraday provides a glimmer of hope amidst the darkness of the estate's history. Director Lenny Abrahamson brings a haunting and atmospheric tone to the film that perfectly captures the Gothic setting of the estate. The attention to detail in every frame, from the decaying architecture to the eerie lighting, creates a palpable sense of unease that permeates every scene. Overall, The Little Stranger is a masterful exploration of human nature and the lingering effects of trauma. With its talented cast, stunning cinematography, and gripping plot, it is a must-see for fans of psychological thrillers and Gothic horror.