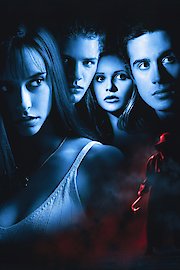 Watch I Know What You Did Last Summer
"If you're going to bury the truth, make sure it stays buried."
R
1997
1 hr 40 min
52
I Know What You Did Last Summer is a 1997 film that stars Jennifer Love Hewitt, Freddie Prinze, Jr., Sarah Michelle Gellar and Ryan Phillippe. Jennifer Love Hewitt portrays a high school senior named Julie James. She is very intelligent and looks forward to attending college. She dates a guy named Ray who wants to be a fisherman. He and Julie love each other but wonder if their relationship will last. Julie is friends with Helen, who is portrayed by Sarah Michelle Gellar. She is a beauty queen who aspires to be a soap opera actress. She dates a cocky football player named Barry, who is portrayed by Ryan Phillippe. One night after a party, the four are driving in Barry's BMW when Barry distracts Ray because he is drunk, and he accidentally hits a man who is dressed like a fisherman. The man is dead, and the four panic. Julie wants to call the cops, but Barry tells her not to because the car smells like beer, and they will think that Ray was drinking. The four decide to throw the man's body into the water and never speak about the tragic turn of events ever again. They all go their separate ways, and a year later, Julie receives a note telling her that someone knows what she did last summer. Julie is sullen and is doing poorly in school. She reaches out to her friends, and they begin being stalked by someone. Helen's hair is butchered, Barry is run down by someone outside of the gym, Julie has a dead body placed in her car, and Ray gets threatening notes as well. One by one, the man picks off members of the group. Julie fights to survive and find out who the group killed that fateful night and who is after them so that she can try to stay alive.