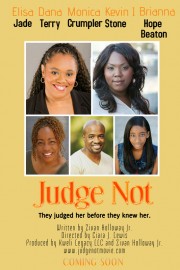 Watch Judge Not
Judge Not is a drama film released in 2018 starring Kevin J. Stone, Monica Crumpler, Brianna Hope Beaton, and Elisa Jade. The plot follows a small-town Judge, Judge Luther Simms played by Kevin J. Stone, who finds himself in a complicated position when he has to preside over a case involving his own nephew, Caleb Simms, played by Brianna Hope Beaton. Caleb is accused of murdering a young woman, and her parents are out for justice.
Being the only sitting judge in his small town, Luther has to take on this high-profile case and remain unbiased while dealing with his own personal emotions towards his nephew who he had raised as his own son for many years. Judge Simms finds himself in a difficult position, having to question his own values and principles while trying to be impartial as a judge. As things start to unravel, Luther starts to realize that there might be more to this case than meets the eye.
The film explores the theme of morality, justice, and the difficulties of maintaining a neutral stance in emotionally charged situations. As Luther attempts to navigate his way through this very personal and difficult case, he realizes that his own morals and values might not be as objective as he thought. The movie also touches on the idea of whether or not one is capable of being a fair judge when emotions are running high and how sometimes, personal relationships might influence one's decisions.
As the trial progresses, Luther begins to uncover some dark secrets about the victim and her family. However, these revelations only add to the already complex and conflicting issues surrounding the case. The movie raises questions about the concept of justice and whether or not it is possible to pursue the truth while still being fair and impartial.
The actors in the movie deliver incredible performances, with Kevin J. Stone's portrayal of Judge Luther Simms standing out in particular. Stone perfectly captures the emotional turmoil of a man who is struggling to balance his own beliefs with the demands of his position, while also trying to manage his personal relationships. His performance is both nuanced and convincing. Brianna Hope Beaton also delivers an excellent performance as the accused Caleb Simms, making the audience question whether or not he is guilty of the charges against him.
Throughout the movie, the audience is forced to confront their own assumptions and expectations regarding the case. The compelling story, combined with the excellent performances and direction, make Judge Not a thought-provoking and emotionally charged drama that will keep you captivated until the very end.
In conclusion, Judge Not is a must-watch drama film that delves into the complexities of morality, justice, and relationships. With excellent performances from the cast and an engaging script, the story takes the audience on an emotional journey that touches on themes that are universally relevant. The film raises important questions about the ethical dilemmas faced by judges in high-profile cases and will leave audiences thinking long after the credits have rolled.
Judge Not is a 2018 comedy with a runtime of 15 hours.