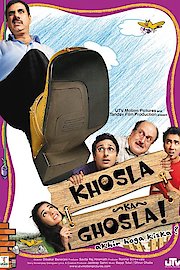 Watch Khosla Ka Ghosla
"A Delhi-based retired middle class man tries to get his land back from a swindling property dealer with the help of his sons and their friends."
NR
2006
2 hr 10 min
Khosla Ka Ghosla is a 2006 Hindi language comedy-drama film directed by Dibakar Banerjee. The movie stars Anupam Kher, Boman Irani, Parvin Dabas, Vinay Pathak, and Tara Sharma in key roles. The plot of Khosla Ka Ghosla revolves around the Khosla family, which includes Kamal Kishore Khosla (Anupam Kher), his wife Sarla Khosla (Kirron Kher), and their grown-up children Cherry (Parvin Dabas) and Meghna (Ranvir Shorey). Kamal Kishore Khosla is a retired government employee who has saved his entire life to buy a plot of land in Delhi where he plans to build his dream home. However, his dream is shattered when he discovers that the land has been fraudulently sold to a wealthy businessman, Kishan Khurana (Boman Irani). Khurana refuses to budge and instead threatens the Khosla family with legal action if they do not leave the land. Devastated by the turn of events, Kamal Kishore Khosla turns to his son Cherry for help. Cherry, a hot-headed young man, hatches a plan to con Khurana out of his money and buy back the land. He enlists the help of his friend, the scheming and street-smart Balwant "Bunty" Khosla (Vinay Pathak), as well as a group of local goons. Together, they plan an elaborate scheme to dupe Khurana and get back the land. The plan is risky, and everything that can go wrong does go wrong. As Khurana begins to get suspicious, the Khoslas must outsmart him and keep their plan from falling apart. Meanwhile, Kamal Kishore Khosla must deal with the emotional fallout of the situation, as well as the disapproval of his wife and daughter. Khosla Ka Ghosla is a heartwarming, funny, and at times emotional tale of a family's struggle against a corrupt system. The film's screenplay is its biggest strength, with witty and realistic dialogues that reflect the zeitgeist of middle-class India. The performances are impeccable, with Anupam Kher in particular delivering a standout performance as the resilient but vulnerable Kamal Kishore Khosla. Director Dibakar Banerjee successfully weaves in themes of corruption, middle-class angst, and the complexities of family relationships into the story, making it a relatable and engaging watch. The film's music, composed by Bapi-Tutul, is also noteworthy, with the soulful "Chak De Phatte" becoming a popular track. Overall, Khosla Ka Ghosla is a must-watch for anyone who loves a good comedy-drama with relatable characters and a strong storyline. It's a film that manages to juggle humor and emotion with finesse, leaving the audience with a sense of satisfaction by the time the credits roll.