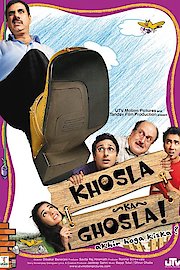 Watch Khosla Ka Ghosla
"A Delhi-based retired middle class man tries to get his land back from a swindling property dealer with the help of his sons and their friends."
NR
2006
2 hr 10 min
This endearing and captivating motion picture tells the tale of a man who wants nothing more in his life than to see himself living in the home of his dreams, before his years are done. This man, who goes by the name of Kamal Kishore Khosla, has had his eye set on a specific chunk of land. He has had his eye on this particular spot for many, many years, and has spent a considerable portion of his working life saving enough money to buy the plot. However, Khosla soon discovers that another, greedy individual has bought the land and has his own plans for it.