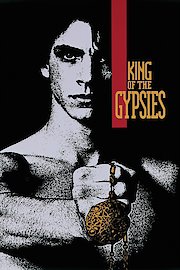 Watch King of the Gypsies
"HIS time is here and he must carry on the tradition of ruling with vengeance!"
R
1978
1 hr 52 min
38
King of the Gypsies is a 1978 American drama film directed by Frank Pierson and starring Eric Roberts, Judd Hirsch, and Susan Sarandon. The story revolves around a young man named Davey, who is the grandson of the king of the gypsies. Davey, who is half-gypsy and half-Jewish, struggles to find his identity and place in the world. The film begins with a young Davey learning about his heritage from his grandfather, the old king of the gypsies, Zharko. Zharko shows him the ways of the gypsies and teaches him important life lessons. However, as Davey grows older, he begins to feel torn between his gypsy and Jewish heritage. He finds it difficult to fit in with either community and feels like an outsider in both worlds. Davey's life takes a turn when he meets a young woman named Sharon, who is also half-gypsy and half-Jewish. The two quickly fall in love and decide to get married. However, their families are strongly opposed to the union, as they believe that their respective cultures should not mix. As Davey and Sharon struggle to overcome their families' objections, they are forced to confront the harsh realities of gypsy life. They are continually on the move, never settling down in one place for too long. They live off the land, scavenging for food and shelter wherever they can find it. They also face discrimination and persecution from non-gypsies who view them with suspicion and mistrust. Meanwhile, Davey's cousin, Tita, is plotting to take over the gypsy throne from Zharko. Tita is a violent and ruthless man who will stop at nothing to achieve his goals. He sees Davey as a threat to his power and sets out to destroy him. King of the Gypsies is a powerful and emotional film that explores themes of identity, love, and family. The performances from the cast are outstanding, particularly Eric Roberts as Davey and Susan Sarandon as Sharon. Judd Hirsch also delivers a strong performance as Davey's father, who is torn between his loyalty to the gypsies and his love for his son. The film is also notable for its portrayal of gypsy culture, which is often misunderstood and misrepresented in popular media. King of the Gypsies portrays the gypsies as a proud and resilient people who value tradition and family above all else. However, it also shows the darker side of gypsy life, including violence and criminality. Overall, King of the Gypsies is a gripping and emotional film that will stay with viewers long after the credits roll. It is a must-see for anyone interested in exploring the complexities of cultural identity and the struggles of marginalized communities.