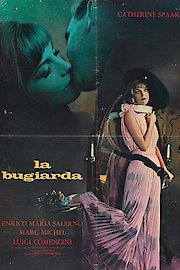 Watch La bugiarda
La bugiarda, a Franco-Italian comedy-drama movie released in 1965, is centered around the character of Simonetta Stefanello, portrayed by Catherine Spaak. The movie opens with a young and beautiful Simonetta celebrating her 21st birthday. Simonetta is introduced as a habitual liar, someone who has a penchant for making up stories and living in her own fantasies.
The movie revolves around Simonetta's web of lies, and the consequences that follow. She has led two men to believe that they are the only ones in her life - a wealthy businessman, Paolo (Enrico Maria Salerno) and a struggling artist, Roberto (Marc Michel). When Roberto and Paolo meet, they realize the truth and plan to expose Simonetta's lies.
Amidst all this drama, Simonetta is involved in a car accident where she is saved by Roberto. This act of heroism from Roberto makes Simonetta realize her love for him. However, Roberto is also the one who discovers that Simonetta had been lying to him about working as a nurse in a hospital. This revelation gives the audience a peek into Simonetta's psyche, as she tells Roberto that she pretends to work in the hospital to impress him as he is an artist.
The other important character in the movie is Simonetta's mother, played by Valentina Cortese. She sees her daughter's lying tendencies as a reflection of her own failures, as she has never been able to remarry after her husband's death. Her own bitterness towards the world is projected onto her daughter, making her vulnerable to the pitfalls of her imagination.
There are several subplots in the movie that add to the overall theme of deception and falsehood. Simonetta's friend, Lilli (Carla Gravina) is in love with Paolo, who is still in love with Simonetta. There is also a scene where Simonetta tells a fake story about her lover dying in a war, and even though it is in bad taste, her friends sympathize with her.
The movie, directed by Luigi Comencini, beautifully captures the character of Simonetta - a free-spirited woman who is lost in her own world of fantasies. Catherine Spaak delivers a brilliant performance, bringing to life the quirks of her character. Her acting makes the audience sympathize with Simonetta, as they can see her struggling with her inner demons. Marc Michel and Enrico Maria Salerno also deliver exceptional performances, playing the roles of the heartbroken yet determined men who do not want to be fooled by Simonetta's lies.
The movie's soundtrack, composed by Armando Trovajoli, has a playful yet melancholic tone that accentuates the mood of the film. The title track, La bugiarda, sung by Catherine Spaak herself, has a catchy tune and is a perfect match for Simonetta's character.
Overall, La bugiarda is an excellent movie that explores the themes of deception and fantasy. It portrays the grim reality of living in a false reality and the consequences of one's actions. It will make you laugh, cry and ponder over the complexities of human behavior.