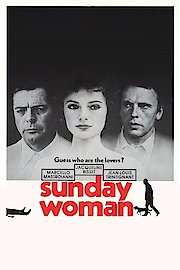 Watch The Sunday Woman
"The police have the victim, the weapon and the suspect. What they don't have is the Sunday Woman."
R
1976
1 hr 49 min
An odious architect is beaten to death and a high society wife (Jacqueline Bisset, Day for Night) and her gay friend (Jean-Louis Trintignant, The Conformist) are the key suspects with a discarded letter implicating them in the crime.
The Sunday Woman is a 1976 comedy with a runtime of 1 hour and 49 minutes. It has received mostly positive reviews from critics and viewers, who have given it an IMDb score of 6.6.