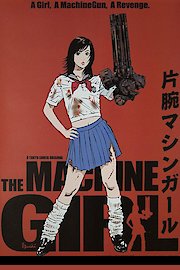 Watch Machine Girl
"It's Payback Time!"
NR
2008
1 hr 36 min
Machine Girl is a 2008 Japanese cult classic that inserts heavy doses of gore and over-the-top violence into a revenge story involving a high school girl named Ami, played by Minase Yashiro, who is out to avenge the murder of her younger brother. The movie is directed by Noboru Iguchi, who is known for his extreme and bizarre visual style.
The film opens with a scene of Ami and her brother Yu getting harassed by a group of bullies from their school. Though the tone is comical, the bullying is severe, including Yu getting his arm cut off and Ami getting sexually assaulted. Things escalate quickly and Yu ends up dead after being thrown off a rooftop. The police, who are in cahoots with the leader of the group, do nothing to help Ami and her parents commit suicide out of grief.
Ami decides to take matters into her own hands and seeks out the leader of the gang, a man named Sho Kimura, played by Nobuhiro Nishihara. In the ensuing confrontation, Ami loses her arm and finds herself in the hands of an eccentric mechanic named Ryuuji, played by Kentarô Shimazu, who equips her with a machine gun as a replacement arm. Together they must take on Sho and his minions, who have their own martial arts skills and a variety of strange weapons at their disposal.
As Ami goes on her quest for revenge, she encounters other eccentric characters, including a former yakuza member named Kagetora, played by Hiroko Yashiki, who is also seeking revenge against Sho. The movie also features Sho's parents, who are members of a cult that worships a water deity and have their own set of bizarre abilities.
The action scenes in Machine Girl are a mix of practical effects and CG animation, with buckets of blood and limbs flying everywhere. The violence is over-the-top and cartoonish, with a clear sense of humor that is present throughout. The film does not take itself too seriously and revels in its own absurdity, including scenes where Ami fights hordes of attackers with her machine gun arm while twirling around like a ballerina.
Despite its gratuitous violence, Machine Girl has a surprising amount of heart. Ami's journey is fueled by her love for her brother and her desire to protect those she cares about. The supporting characters, including Ryuuji and Kagetora, also have emotional arcs that add depth to the story.
The film also touches upon themes of bullying, corruption, and the abuse of power. In one scene, a corrupt police officer allows Sho's gang to operate with impunity, highlighting the failings of the justice system. Additionally, the film's portrayal of the cult that Sho's parents are involved in challenges the idea of religious fanaticism and blind devotion.
Overall, Machine Girl is a unique and entertaining film that is not for the faint of heart. Its extreme violence and bizarre characters make it a cult classic that has gained a strong following over the years. While it is far from a masterpiece, it delivers on its promises of over-the-top action and dark humor, and stands as a testament to the bizarre and inventive nature of Japanese cinema.
Machine Girl is a 2008 action movie with a runtime of 1 hour and 36 minutes. It has received moderate reviews from critics and viewers, who have given it an IMDb score of 5.9.