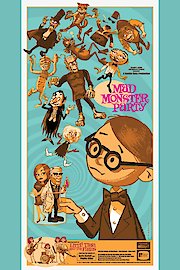 Watch Mad Monster Party
"It's the silliest party of the year...and you're all invited!"
NR
1967
1 hr 34 min
Another stop motion animation classic from the makers of Rudolph the Red Nosed Reindeer, but this time it's a change from the usual Christmas to Halloween. Baron Frankenstein (Boris Karloff) has just finished his greatest invention, a devastatingly explosive liquid, and must find an heir to his "horror business." He invites his supposedly trusted friends such as Dracula, the Frankenstein monster and his mate, the creature from the black lagoon and many others to a yearly party. He confounds them and their scheming by inviting his misfit nephew Felix, will he be the heir if he can survive the party?