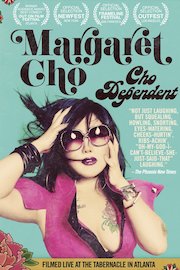 Watch Margaret Cho - Cho Dependent
NR
2011
1 hr 26 min
Margaret Cho - Cho Dependent is a 2011 comedy documentary film directed by Liam Sullivan and Lorene Machado, and starring the hilarious and talented Margaret Cho, along with Rusty Shelby. The movie is named after and based on Margaret Cho's seventh album, Cho Dependent, which was released in 2010. Margaret Cho - Cho Dependent is a combination of stand-up comedy, musical performances, interviews, and behind-the-scenes footage of Margaret Cho touring to support her album. The movie follows Margaret Cho as she travels across the country, performing her comedy and music for large crowds of fans. The movie also features interviews with Margaret's friends and fellow comedians, as well as backstage footage of Margaret and her team.
The movie opens with Margaret Cho performing her hit song "I'm Sorry" on stage, dressed in a flamboyant purple outfit and accompanied by her backup dancers. The song is a satirical take on the "non-apology" apologies of celebrities and politicians when they get caught doing something wrong or offensive. The audience is already in stitches, and we know we're in for a hilarious ride.
The movie then cuts to backstage footage of Margaret preparing for her show, joking around with her team, and interacting with her fans. We see her in a playful mood, but also witness her struggles with anxiety and depression. Margaret opens up about her past drug addiction and her fears about performing and being judged by others.
Throughout the movie, we see clips of Margaret performing her stand-up comedy, which covers a wide range of topics, including politics, race, gender, sexuality, and personal anecdotes. She is not afraid to go there and tackles controversial topics with humor and candor. Her jokes are often risqué and provocative, but always smart and thought-provoking.
In between the stand-up segments, we see musical performances from Margaret and her band, which include covers of classic rock songs like "Lola" and "Baba O'Riley," as well as original songs from her Cho Dependent album. Margaret's music is a fusion of comedy, rock, and pop, and her lyrics are witty and irreverent.
One of the highlights of the movie is the interviews with Margaret's friends and fellow comedians, who all praise her talent, her humor, and her courage to speak her mind. Among them are Sarah Silverman, Amy Schumer, and Kathy Griffin. They all agree that Margaret is one of the funniest and most original comedians of our time, but also one of the bravest and most honest.
The movie also touches on some serious issues, such as racism, homophobia, and bullying. Margaret talks openly about her experiences as an Asian-American woman in the entertainment industry, and how she has faced discrimination and stereotypes. She also speaks out against the bullying of LGBT youth and the suicides that result from it. Margaret uses her humor to shed light on these issues and to inspire others to speak out and make a difference.
Overall, Margaret Cho - Cho Dependent is a hilarious and insightful movie that showcases Margaret Cho's talent as a comedian, musician, and performer. It's a must-see for fans of Margaret Cho and for anyone who loves smart and edgy comedy. The movie is a testament to Margaret's courage, creativity, and resilience, and to her ability to connect with her audience on a deep and personal level.
Margaret Cho - Cho Dependent is a 2011 comedy with a runtime of 1 hour and 26 minutes. It has received mostly positive reviews from critics and viewers, who have given it an IMDb score of 6.9.