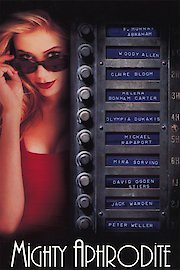 Watch Mighty Aphrodite
"Of all human weaknesses, obsession is the most dangerous, and the silliest!"
R
1995
1 hr 35 min
59
Mighty Aphrodite is a 1995 romantic comedy-drama film directed by Woody Allen, who also stars in the movie alongside Mira Sorvino and Pamela Blair. The movie tells the story of Lenny Weinrib, a New Yorker who adopts a son with his estranged wife, Amanda, played by Helena Bonham Carter. However, Lenny grows curious about the identity of the boy's biological mother and begins a search for her, leading to unexpected consequences.
The movie's narrative begins with Lenny, a sportswriter who becomes increasingly dissatisfied with his life, particularly after adopting his son, Max. He grows curious about Max's biological mother and enlists the help of a street-smart hooker named Linda Ash (Mira Sorvino) to track her down. Linda is a sweet but dim-witted woman who dreams of becoming an actress, and Lenny discovers that she is, in fact, Max's mother. Despite Linda's initial reluctance, Lenny convinces her to meet Max and Amanda.
As Lenny and Linda grow closer, he becomes more obsessed with her, particularly after Amanda leaves him for a musician. However, Linda is still involved with her violent pimp, Kevin, who tries to force her back into prostitution. To help Linda, Lenny hires a private investigator, who uncovers a troubling secret about her past.
Mighty Aphrodite is a funny and charming movie that explores themes of parenthood, love, and the search for identity. Woody Allen's performance is excellent as always, portraying Lenny's mid-life crisis with his trademark neurotic humor. Mira Sorvino is also fantastic as Linda, creating a character who is both lovable and vulnerable.
The movie's setting in New York City is also an important part of its appeal, portraying the city as simultaneously glamorous and gritty. The characters' interactions with each other also provide plenty of laughs, particularly Lenny's interactions with his wise-cracking neighbor and Linda's hilarious attempts to act.
While the movie is primarily a comedy, it also has some poignant moments, particularly in its portrayal of Linda's struggles with her past and Lenny's search for meaning in his life. The movie's soundtrack also adds to its charm, with classic songs from the 1930s and 1940s underscoring the movie's romantic nostalgia.
In conclusion, Mighty Aphrodite is a delightful romantic comedy-drama that showcases Woody Allen's talent for writing and directing. The movie's excellent performances, charming setting, and witty dialogue create a film that is both funny and poignant. If you're looking for a feel-good movie that will leave you with a smile on your face, Mighty Aphrodite is definitely worth a watch.
Mighty Aphrodite is a 1995 comedy with a runtime of 1 hour and 35 minutes. It has received moderate reviews from critics and viewers, who have given it an IMDb score of 7.0 and a MetaScore of 59.