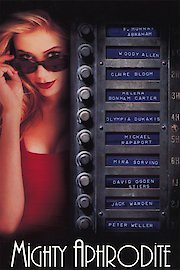 Watch Mighty Aphrodite
"Of all human weaknesses, obsession is the most dangerous, and the silliest!"
R
1995
1 hr 35 min
59
A quirky comedy that is a modern retelling of the Pygmalion myth as narrated by a Greek chorus. Lenny and Amanda are a Manhattan couple whose adopted son Max turns out to be a genius, prompting Lenny to seek out the boy's biological mother in the belief she must be equally intelligent. Instead he is surprised when he discovers that Max's birth mother is actually a ditzy sex worker. Lenny decides to meet her and their encounter eventually affects everyone's lives.