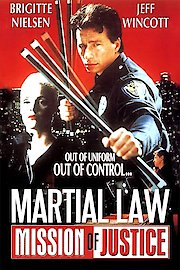 Watch Mission Of Justice
"Out of uniform. Out of control..."
R
1992
1 hr 34 min
Mission Of Justice is a 1992 martial arts film starring Jeff Wincott, Brigitte Nielsen, Luca Bercovici, and Matthias Hues. The movie revolves around Jeff, who plays Kurt Harris, a former CIA agent who has left his past life to work as a private detective. In the film, when Kurt is hired by a wealthy businessman who has lost his daughter, he agrees to investigate the case, which leads him to discover a dangerous conspiracy involving a corrupt government official and a group of deadly mercenaries.
The story begins with a father named Jack Quinn (Michael Shaner), seeking the help of Kurt Harris, a private detective to locate his missing daughter, Tina. Jack has been unable to track his daughter's whereabouts and fears for her life. Kurt agrees to take on the case and begins his investigation. He first looks for Tina's friends and acquaintances, and eventually, his search leads him to a suspicious person by the name of Santos.
Kurt soon learns that Santos is not only involved in Tina's kidnapping but is also part of a more significant criminal conspiracy. Kurt teams up with Cindy (Brigitte Nielsen), an investigative journalist, to uncover the truth behind the conspiracy.
Along the way, Kurt shows off his martial arts skills when he fights the mercenaries who are after him. The mercenaries, led by Matthias Hues, are a ruthless bunch who will stop at nothing to complete their mission. Kurt's fighting skills are put to the test as he takes on the group of skilled mercenaries in a series of intense fight scenes. Meanwhile, Kurt and Cindy try to piece together the puzzle of the conspiracy while uncovering some surprising facts about the government official.
As they dig deeper, Kurt and Cindy soon realize that the government official's corruption goes beyond just Tina's kidnapping. The conspiracy involves arms smuggling, drug trafficking, and illegal activities that could affect the entire country. Kurt and Cindy work together to expose the conspiracy and bring justice to those responsible.
Overall, Mission Of Justice is an action-packed film that combines martial arts, conspiracy, and detective work. Jeff Wincott delivers a strong performance as the lead character, with Brigitte Nielsen providing excellent support as his ally. Luca Bercovici and Matthias Hues also shine in their roles as the corrupt government official and the leader of the mercenaries, respectively.
The fight scenes are well choreographed, and the film delivers on the martial arts action that fans of the genre should appreciate. The story is engaging and keeps the viewer interested throughout, building up to a thrilling climax. Mission Of Justice is the kind of film that offers plenty of excitement for action movie fans and is definitely worth checking out.
Mission Of Justice is a 1992 action movie with a runtime of 1 hour and 34 minutes. It has received moderate reviews from critics and viewers, who have given it an IMDb score of 5.7.