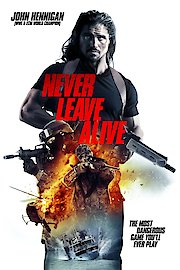 Watch Never Leave Alive
NR
2017
1 hr 30 min
Never Leave Alive is a 2017 action-adventure movie directed by Steven LaMorte and starring John Hennigan, Michelle Taylor, and Eric Etebari. The film tells the story of a group of friends who embark on a hiking expedition deep into the heart of the jungle. Unbeknownst to them, they stumble upon a hunting ground for a group of deadly predators who will stop at nothing to protect their territory.
The movie starts off with Rick Rainsford (played by John Hennigan), a skilled hunter, and survivalist who is known for his bravery and expertise in the field. Rick is invited to a hunting trip in the jungle by his best friend, Tommy (played by Joseph Gatt), and his girlfriend, Stacy (played by Michelle Taylor). Rick is skeptical at first but agrees to go, thinking that it would be a good opportunity to spend some quality time with his friend.
The trio, along with a few other friends, arrive at their destination and set up camp in the jungle. Their adventure turns into a nightmare when they encounter a group of deadly predators who are lurking in the shadows, waiting for the perfect opportunity to strike. The group soon realizes that they are not alone in the jungle and are being hunted by a group of relentless killers.
The characters in Never Leave Alive are well defined, and each actor brings their own personality and traits to their roles. John Hennigan's performance as Rick is exceptional, and he is convincing as a skilled hunter who is forced to rely on his instincts to survive. Michelle Taylor is equally impressive as Stacy, Tommy's girlfriend, and the only female member of the group. Eric Etebari's portrayal of a ruthless hunter obsessed with killing his prey is chilling and convincing.
The movie's pacing is excellent, with enough action to keep you on the edge of your seat without feeling rushed. The tension builds steadily throughout the movie, culminating in a thrilling and action-packed climax. The movie's impressive visuals and stunning jungle landscape add to the film's overall atmosphere, making it an immersive and engaging experience for the audience.
Overall, Never Leave Alive is a thrilling and entertaining movie that is sure to appeal to fans of the action-adventure genre. With an exceptional cast, stunning visuals, and a well-crafted story, it is a must-watch for anyone looking for an adrenaline-pumping and action-packed experience.
Never Leave Alive is a 2017 adventure movie with a runtime of 1 hour and 30 minutes. It has received mostly poor reviews from critics and viewers, who have given it an IMDb score of 3.5.