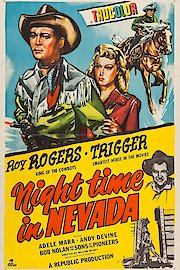 Watch Night Time in Nevada
"NIGHTS OF THRILLING EXCITEMENT! DAYS OF DANGER!...when train-raiding rustlers ride straight into trouble"
Passed
1948
1 hr 7 min
In this musical western drama, Ran Farrell tries to murder his partner Jim Andrews while both are prospecting for gold. A dying Andrews makes Farrell promise to take care of his baby daughter Joan. Sixteen years pass and Farrell tries to swindle Joan of her gold mine inheritance in addition to rustling cattle that Roy Rogers was taking to market. Roy begins to investigate and uncovers Farrell's unsavory past. Farrell continues to get rid of anyone in his way, including hatching a new plot to murder Joan in order to get her share of her father's gold.