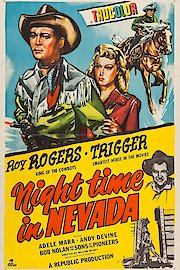 Watch Night Time in Nevada
"NIGHTS OF THRILLING EXCITEMENT! DAYS OF DANGER!...when train-raiding rustlers ride straight into trouble"
Passed
1948
1 hr 7 min
Night Time in Nevada is a classic Western movie from 1948 starring the iconic cowboy star, Roy Rogers, and his faithful horse, Trigger. The movie also stars Adele Mara, who plays a mysterious nightclub singer, and some of the best character actors of the era. The movie begins with a sinister plot to steal a valuable herd of horses from a wealthy rancher named Dan Bennett. Roy Rogers, who plays himself, is called in to investigate the theft, but he quickly learns that the case is more complex than he initially thought.
As Rogers begins to unravel the mystery, he meets the sultry nightclub singer, Rita (played by Adele Mara). Rita, who is styled like a classic femme fatale, catches Rogers' eye, and he starts to pursue her. However, he soon learns that Rita is connected to the horse theft ring and may be involved in the crime.
Meanwhile, Rogers' sidekick, Splinters (played by Andy Devine), is also investigating the case. Between Rogers' cunning and Splinters' comic relief, the duo makes a formidable team.
As the plot thickens, Rogers and Splinters must navigate a web of deception, blackmail, and murder to uncover the criminals behind the horse theft. Along the way, they face numerous challenges, including a thrilling chase scene through the Nevada desert and a dramatic showdown in the middle of the night.
Throughout the movie, Roy Rogers showcases his signature singing and guitar-playing talents with several musical numbers. His crooning voice and cowboy charm will transport you back to the heyday of Hollywood Westerns.
The movie offers an interesting blend of suspense, romance, and heroes versus villains action. The portrayal of the tough and resourceful heroes and the sneaky villains is a classic Western motif. The story is engaging, and the acting is top-notch, making it an enjoyable viewing experience.
In addition to Rogers, Trigger is a real highlight of the film. His legendary stunts and tricks are on full display, and he even gets to perform some of his trademark dance moves.
Overall, Night Time in Nevada is a timeless classic that captures the spirit of the Old West. It's a must-see for fans of Roy Rogers and classic Western movies. The film offers plenty of action, music, humor, and suspense, which will keep you on the edge of your seat until the final credits roll.
Night Time in Nevada is a 1948 action movie with a runtime of 1 hour and 7 minutes. It has received mostly positive reviews from critics and viewers, who have given it an IMDb score of 6.5.