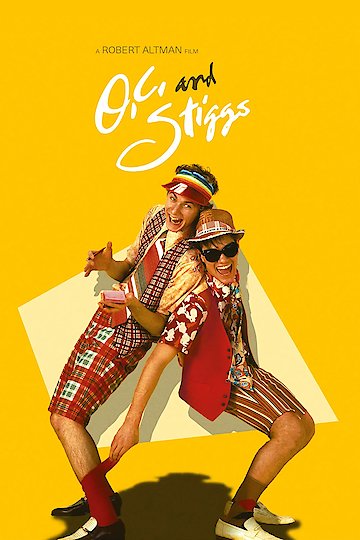 Watch O.C. and Stiggs
"Adventures in upper middle class suburbia."
R
1987
1 hr 49 min
O.C. and Stiggs is a 1985 American comedy film directed by Robert Altman and starring Daniel Jenkins, Neill Barry, and Jane Curtin. The film revolves around two teenage boys, O.C. and Stiggs, who are determined to get revenge on a wealthy and obnoxious businessman and his family who ruined their fun. The movie is based on a series of stories written by National Lampoon writer, Ted Mann. The film is a satirical look at suburban life in the 1980s, and it pokes fun at mainstream consumerism, conservative values, and the idea of the perfect American lifestyle.
O.C. and Stiggs, are two underachieving teenagers who live in suburban Arizona, and are constantly devising pranks to play on their self-righteous and pompous neighbors, the Schwabs. The Schwabs are a wealthy family, and their patriarch, Randall Schwab, is the owner of a successful automotive company.
The boys' pranks begin as harmless and juvenile, such as placing a flaming bag of dog poop on the Schwabs' doorstep or spraying paint on their brand new cars. However, their pranks escalate and become more elaborate and dangerous as the movie progresses.
O.C. and Stiggs also have their own inner turmoil to deal with. O.C. is madly in love with Angela, a girl from a wealthy family who is dating a tennis player named Dirk. Stiggs, on the other hand, is dealing with his mother's remarriage to a man he despises.
Throughout the movie, the boys encounter a variety of quirky characters, including an eccentric millionaire, a group of bikers, and a Vietnam veteran who helps them build a powerful weapon to use against the Schwabs.
The film's humor is a mix of slapstick, satire, and absurdity. Altman's direction is superb, and he infuses the movie with an offbeat, anarchic energy that matches the boys' rebellious spirit.
Daniel Jenkins and Neill Barry deliver strong performances as O.C. and Stiggs, respectively. Their chemistry is palpable, and their banter and witty exchanges are some of the film's highlights.
Jane Curtin also shines as Elinore Schwab, Randall's wealthy and scheming wife. Curtin's performance is understated, yet hilarious, and she manages to steal every scene she's in.
Overall, O.C. and Stiggs is a fun and quirky film that will appeal to fans of offbeat comedies. It's not for everyone, as some viewers may find the humor too silly and juvenile. However, for those who are willing to suspend their disbelief and embrace the film's absurdity, it's an enjoyable romp through the 1980s suburban landscape.