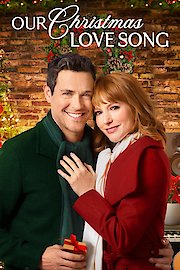 Watch Our Christmas Love Song
NR
2019
1 hr 22 min
Our Christmas Love Song is a 2019 romantic Christmas movie that revolves around the theme of second chances. The movie is directed by Gary Yates and stars Alicia Witt, Brendan Hines, and Andrea del Campo in lead roles. The film opens with Alice (Alicia Witt), a country singer, who is bracing herself for an important performance during the holiday season. At the same time, Jack (Brendan Hines), a record executive, is experiencing a rough patch in his personal and professional life. Both Alice and Jack are struggling to keep their careers and personal lives afloat, which leads them to cross each other's paths.
Alice and Jack go back to their respective hometowns during the Christmas season, and their paths cross while they both are performing at a charity event. Jack is immediately smitten with Alice's voice and envisions her as his next big signing. Alice, on the other hand, is not impressed with Jack's egotistical persona.
As Christmas approaches, Jack follows Alice to her hometown, where she is set to perform at the town's Christmas Eve celebration. Jack is determined to sign Alice to his record label, but as they spend time together, he starts to see beyond her musical talent and is drawn to her as a person. Alice, on the other hand, is still trying to figure out if Jack is a genuine person or just another record executive trying to use her to make a profit.
Through their time spent together, Alice and Jack discover their mutual love for music and Christmas, and they both embark on a journey that could change their lives forever. As they grow closer, they realize there is more to life than just chasing their dreams, and they start to experience the magic of the season.
The movie emphasizes family traditions during the holiday season; Alice is experiencing loneliness as she is estranged from her family. As she reconnects with her family and reconnects with her love for music, Alice learns to embrace the holiday spirit.
The film's climax will not disappoint the viewers, and it is sure to warm everyone's hearts. The movie ends on a joyous note with a beautiful holiday song that brings everyone together.
Alicia Witt plays the lead role of Alice in the movie, and she delivers a convincing performance as a struggling country singer trying to overcome the obstacles in her life. Brendan Hines's portrayal of Jack is charming, and he brings a level of sincerity to his role that helps the audience sympathize with his character's struggles.
The cinematography of the film is excellent, capturing the beauty of the holiday season in the countryside. The music in the film adds to the festive and joyful atmosphere, and the supporting cast delivers a commendable performance.
Overall, Our Christmas Love Song is a delightful movie that will appeal to anyone looking for a heartwarming story during the holiday season. The film has a delightful blend of romance, music, and Christmas cheer, making it the perfect feel-good movie to watch with your loved ones.
Our Christmas Love Song is a 2019 romance movie with a runtime of 1 hour and 22 minutes. It has received moderate reviews from critics and viewers, who have given it an IMDb score of 6.3.