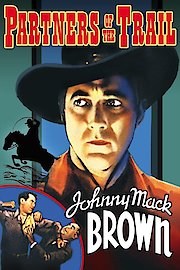 Watch Partners of the Trail
"Ready for anything...that Nevada and Sandy! They're partners in the battle against bandits!"
Approved
1944
54 min
(1944, Monogram) Johnny Mack Brown, Ray Hatton, Christine McIntyre, Robert Frazer, Craig Woods. Johnny and Ray are marshals investigating a number of mysterious murders in a small western town. Unbeknownst to the local ranchers, their lands are sitting atop large gold veins that are coveted by the corrupt head of a land and cattle company who wants the gold for himself. 16mm.