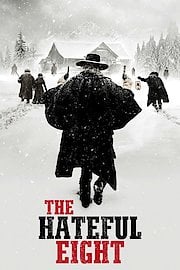 Watch The Hateful Eight
"No one comes up here without a damn good reason."
R
2016
2 hr 56 min
68
In this Western, a misfit group including a couple of bounty hunters, a fugitive and an apparent sheriff are forced together when they encounter a blizzard in a remote mountain pass. The film is directed by Quentin Tarantino and features his signature ultra-violence and self-consciously clever dialogue. Samuel L. Jackson, Kurt Russell, Jennifer Jason Leigh, Walton Goggins, Demián Bichir, Tim Roth, Michael Madsen, and Bruce Dern star.