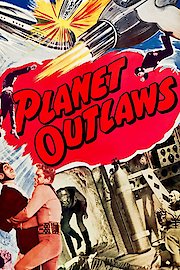 Watch Planet Outlaws
NR
1953
1 hr 11 min
In 1953, the sci-fi movie Planet Outlaws was released, featuring Buster Crabbe, Constance Moore, and Jackie Moran. The film, which was directed by Fred C. Brannon, is set in the 25th century and follows the story of Buck Rogers, a space adventurer who finds himself fighting against an evil ruler named Killer Kane and his henchmen. The movie begins with Buck Rogers, played by Buster Crabbe, heading out on a mission to investigate a strange phenomenon in space. However, he and his crew are suddenly caught in a strange storm, which causes them to be frozen in time for 500 years. When they finally thaw out, they discover that they are in the 25th century and that the world has been taken over by an evil dictator named Killer Kane.
Kane, played by Anthony Warde, rules the world with an iron fist and has enslaved the population, forcing them to work in mines to extract a valuable ore that he needs for his evil plans. Buck Rogers and his crew, who are now considered outlaws in this new world, team up with a group of rebels who are fighting against Kane and his henchmen. Together, they set out to stop Kane from carrying out his plan to destroy the Earth and enslave the remaining population.
Along the way, Buck Rogers meets a beautiful and daring pilot named Wilma Deering, played by Constance Moore. Wilma joins Buck and the rebels in their fight against Kane and his henchmen, becoming a key member of the team thanks to her incredible flying skills and her bravery in the face of danger. Together, Buck, Wilma, and the rebels face a series of challenges as they try to stop Kane from carrying out his deadly plan and restore freedom to the world.
Planet Outlaws is a classic sci-fi film that delivers all the excitement and adventure that fans of the genre have come to expect. The film features plenty of action-packed scenes, including daring aerial battles, shootouts, and explosions, as Buck Rogers and his crew fight against Kane and his army of henchmen. The film also includes plenty of futuristic gadgets, such as ray guns and spaceships, that will delight fans of classic sci-fi.
Buster Crabbe delivers a strong performance as Buck Rogers, capturing the character's adventurous and daring spirit perfectly. He is well-matched by Constance Moore, who brings a tough and independent edge to the role of Wilma Deering. The chemistry between the two actors is palpable, adding an extra layer of excitement to the action-packed storyline.
In addition to the impressive cast, Planet Outlaws also benefits from some truly stunning visuals. The film's special effects and set design are impressive for their time, creating a believable and immersive world that draws the audience into the story. The film's imaginative vision of the future is simultaneously exciting and terrifying, presenting a world that is both technologically advanced and oppressively controlled.
Overall, Planet Outlaws is a classic sci-fi adventure that is sure to delight fans of the genre. With an exciting storyline, impressive special effects, and a talented cast, the film is a thrilling ride that is not to be missed. Whether you are a fan of classic sci-fi or just looking for an exciting adventure, Planet Outlaws is definitely worth checking out.
Planet Outlaws is a 1953 science fiction movie with a runtime of 1 hour and 11 minutes. It has received mostly poor reviews from critics and viewers, who have given it an IMDb score of 3.9.