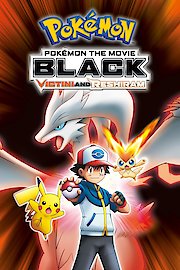 Watch Pokemon the Movie: Black: Victini and Reshiram
"A hero must choose: the power of ideals... or the courage of truth?"
NR
2011
1 hr 36 min
Pokemon the Movie: Black: Victini and Reshiram, released in 2011, tells the story of Ash Ketchum and his friends as they arrive in the Kingdom of the People of the Vale in the Unova region. They are greeted by Damon, a descendant of the People of the Vale, who offers them a tour of the kingdom. Damon's goal is to restore the kingdom to its former glory with the help of his two Pokemon, the legendary Reshiram and the mythical Victini.
However, Damon's plans are not as selfless as they seem. He believes that the power of the Dragon Force, which lies within Reshiram, is the only way to restore the kingdom. He kidnaps Victini, who has the ability to amplify the power of other Pokemon, to help Reshiram reach his full potential. Ash and his friends team up with Damon's sister, Carlita, to rescue Victini and stop Damon's plan before it's too late.
The movie takes the audience on a journey through the Unova region, where they encounter a variety of Pokemon, each with unique abilities and characteristics. The movie also explores the relationship between humans and Pokemon, as well as the ethical implications of using Pokemon for personal gain.
The animation in this movie is stunning, with vibrant colors and intricate details in the backgrounds. The designs of the Pokemon are faithful to their appearances in the video games and anime series, but they are given a fresh look in this movie. The battles between the Pokemon are intense and exciting, with each one showing off their unique moves and abilities.
The voice acting in the movie is top-notch, with Sarah Natochenny reprising her role as Ash Ketchum. Eileen Stevens voices the character of Iris, Ash's friend and traveling companion, while Jason Griffith takes on the role of Cilan, another traveling companion. The chemistry between the three voice actors is evident in their performances, and they bring a sense of humor and energy to their characters.
Overall, Pokemon the Movie: Black: Victini and Reshiram is a fun and exciting adventure that will appeal to both fans of the Pokemon franchise and newcomers alike. The movie's themes of friendship, loyalty, and the importance of doing what's right make it a great choice for all ages. With stunning animation, thrilling battles, and a cast of lovable characters, this movie is sure to be a hit with anyone who loves Pokemon.
Pokemon the Movie: Black: Victini and Reshiram is a 2011 animated movie with a runtime of 1 hour and 36 minutes. It has received moderate reviews from critics and viewers, who have given it an IMDb score of 5.6.