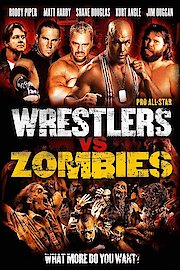 Watch Pro Wrestlers Vs. Zombies
"What more do you want?"
NR
2013
1 hr 31 min
Pro Wrestlers vs. Zombies is a horror-comedy film that was released in 2014. The movie stars a cast of well-known professional wrestlers including Roddy Piper, Jim Duggan, and Matt Hardy. The film follows a group of wrestlers who become trapped in an abandoned prison during a live wrestling event. Unbeknownst to the wrestlers, the prison is home to a zombie outbreak caused by a mad scientist's experiments.
The film begins with retired wrestler, Shane "The Franchise" Douglas, hosting a wrestling event at a prison. The event is being televised live and features famous wrestlers such as Jimmy "Superfly" Snuka, Kurt Angle, and Matt Hardy. As the event is being broadcasted, the camera catches glimpses of the prison's abandoned wing, which is said to be haunted. The wrestlers are initially unaware of the danger that awaits them as they perform in front of the live audience, but things quickly take a turn for the worse when a group of rogue wrestlers show up to ruin the event.
The rogue wrestlers, led by the psychotic Angus (played by Shane Douglas), begin to terrorize the wrestlers and the audience. During the chaos, the mad scientist, Dr. Kesselman (played by Reby Sky), escapes from his confinement in the prison and begins to infect the wrestlers with a zombie virus. The wrestlers are trapped inside the prison with no way out and must fight for their survival against the undead, rogue wrestlers, and the mad scientist.
As the wrestling event turns into a bloody fight for survival, the wrestlers must use their skills and experience to fend off the zombies and protect each other. Each wrestler has their own unique fighting style, which is showcased throughout the film. Roddy Piper, known for his signature 'eye poke,' uses the move to blind the zombies, while Hacksaw Jim Duggan brandishes his famous 2x4 to take down the undead.
The film is filled with comedic moments, as the wrestlers poke fun at their own personas and abilities. However, the humor doesn't take away from the horror of the situation, as the zombies continually threaten the lives of the wrestlers. The film also features a cameo appearance by beloved TV horror host, Count Gore De Vol.
Pro Wrestlers vs. Zombies is a unique film that brings together the worlds of professional wrestling and horror. The film serves as a tribute to the wrestlers who starred in it, highlighting their athletic abilities and larger-than-life personalities. The movie is not without its flaws, but it is an entertaining film that fans of both horror and wrestling can enjoy.
Pro Wrestlers Vs. Zombies is a 2013 horror movie with a runtime of 1 hour and 31 minutes. It has received mostly poor reviews from critics and viewers, who have given it an IMDb score of 3.2.