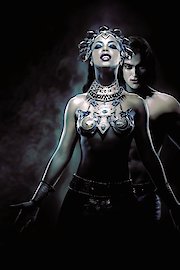 Watch Queen of the Damned
"This time there are no interviews."
R
2002
1 hr 41 min
30
The Queen of the Damned was a film adaptation from Anne Rice's vampire novel. The vampire chronicles the film closely follows the book fairly closely the plot is centered on a vampire named Lestat, who wakes up after slumbering for decades to the sound of a heavy metal rock band. He then proceeds to eat the lead singer and take over the band and achieve international fame and fortune. At which point his vampire brethren, tell him they will not tolerate one of their kind having such a highly visible public profile as this could be very dangerous to vampires everywhere. At the same time a paranormal investigations group begins to analyze Lestat because they are intrigued by the fact that he might be connected to vampires or that he is in fact a vampire. Later it turns out that certain members of the group already know that Lestat is a vampire, and they have proof. Thanks to a journal that was left by another vampire called Marcus, at which point a series of flashbacks occur and Lestat recalls how he awoke Akasha, the Queen of and first vampire, with his music once before he decides to do it once more. As he figures she can protect him from all the other vampires that want him dead because of his rockstar persona and unwanted attention that he brings to his kind. Shortly before his band leaves for their London tour, Akasha, awakens once more, and comes to the club where he is performing his last US concert, and makes an extremely dramatic entrance. Akasha then proceeds to kill every vampire that wanted Lestat dead in the most dramatic and blood drenched manner possible. To top it all off, Akasha takes him as her king, granting him immense power the confrontation that ensues is an epic battle between the warring factions of vampires for the fate of all humanity.